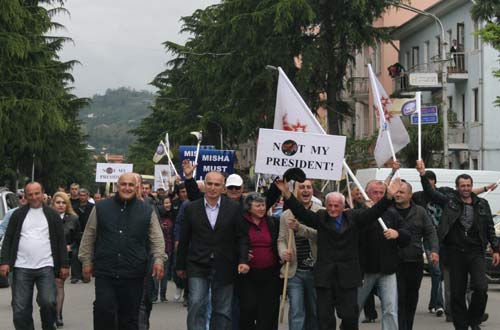 Protesters march in Batumi on May 21. Photo: Newspaper Batumelebi
Batumi-based media sources are reporting that the police briefly clashed with protesters outside the local government-run television station on May 21.
A simultaneous rally in Batumi is part of the street protest held in parallel in Tbilisi.
An Interior Ministry official told Civil.ge that the police had "to push protesters away" from the local television station's office after the protesters "started throwing stones."
A journalist from the local newspaper, Batumelebi, who was at the scene told Civil.ge that the police started dispersing protesters after stones had been tossed. Mzia Amaglobeli of the Batumelebi newspaper said there were chaotic scenes and she was not able to see who was tossing the stones.
She also said that "the active phase of incident lasted for about three minutes" during which the police, including plainclothes police officers, dispersed protesters from the area outside the Adjara TV. After that the area, she said, was sealed off by the police.
A short video apparently shot by a mobile phone and available on YouTube shows chaotic scenes at the entrance of the Adjara TV just before the clash. Someone's voice is heard in the video shouting "don't toss; don't toss."
The organizers of the rally in Batumi said "provocateurs" not the protesters started tossing the stones.
Like in Tbilisi, where protesters are now gathered outside the Georgian Public Broadcaster, protesters in Batumi also moved earlier on May 21 outside the local television station to demand allocating to organizers live airtime.
The protesters are now continuing rallying on Batumi's main square, where they were gathered before moving outside the Adjara TV.