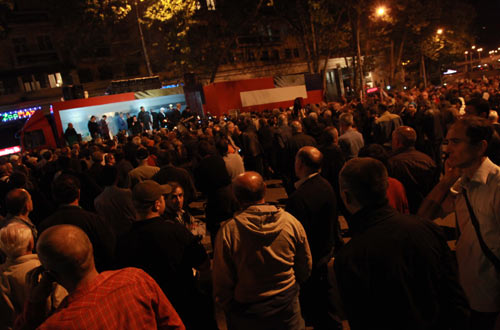 Protesters outside the Georgian Public Broadcaster on Kostava Street, as leaders of the People's Assembly make speeches from a stage installed on a truck. The Kostava Street outside the GPB remains blocked as of late May 21. Photo: Guram Muradov/Civil.ge
Protest rally launched on Saturday afternoon on the capital Tbilisi's main Freedom Square continued outside the Georgian Public Broadcaster (GPB) with the organizers vowing "to fight to the end" to force President Saakashvili resign.
Thousands of protesters, who marched about three kilometers from the Freedom Square to the GPB, were demanding from the broadcaster to allocate live airtime to their leaders from the People's Assembly. GPB's Second Channel, available mainly in Tbilisi, provides live coverage of the rally and GPB's main First Channel aired portions of the rally live in its 8pm news bulletin.
Nino Burjanadze, ex-parliamentary speaker, who is behind the ongoing rally, told for multiple times to protesters that they should not disappears and remain outside the GPB.
"We should not in any way disperse this night. This is very important… We are waiting for more people to join us here," Burjanadze told protesters late on Saturday.
One of the leaders of the People's Assembly Irakli Batiashvili told protesters: "We are not going to step back and we are not going to disperse. We will remain here all night long and are waiting for more people to join us tomorrow."
"We need patience and endurance," Batiashvili said.
Other speakers at the rally were often calling for others to join the rally during their speeches. Speakers were repeating time after time that "more people would join us."
"More people will join us when they see that we are firmly standing here," Batiashvili said.
Nino Burjanadze also called on the authorities to release "all those our supporters who have been arrested in last three days and today." "This is our categorical demand and we will not go from here until our supporters are released," she said.
The People's Assembly is a movement launched last year by opposition-minded, public figures, probably the most prominent of them Nona Gaprindashvili, who was women's world chess champion from 1962 to 1978.
Nino Burjanadze has long been a strongest backer of the movement among politicians and the movement became largely associated with Burjanadze's political platform.
No other major opposition party has joined the People's Assembly and its protest rallies.
As of late May 21 number of protesters significant reduced outside the GPB. Burjanadze said it was not a problem.
"More will come tomorrow. The same was during the Rose Revolution [in 2003]. Only 500 people were remaining [at the rally during the night]. At the time pressure was much less from ex-Communist Eduard Shevardnadze than it is now from 'democrat' Saakashvili," She said.
"I will bite my fingers if this government stays in power; remember my words," Burjanadze added.