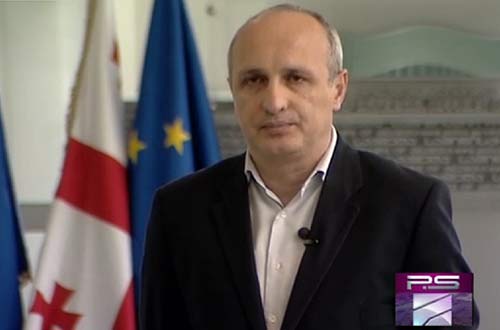 Screengrab from Rustavi 2 TV of an interview with Vano Merabishvili.
Police will "act adequately", which means "having no reaction on these developments," Vano Merabishvili, the Georgian interior minister, said referring to ongoing protest rally by the People's Assembly in Tbilisi and Batumi.
"Everybody saw that all those statements, all those plans these people had, were false and unserious. Therefore, we will have a reaction on these unserious actions, which means that we will have no reaction at all," Merabishvili said in an interview to Rustavi 2 TV's Kurieri PS program aired late on Saturday evening.
The interview, Rustavi 2 said, was recorded on at the time when protesters were marching from Freedom Square towards the Georgian Public Broadcaster.
"Those people [referring to leaders of the ongoing rallies], who were making the statements, are very isolated from the society. They cannot understand and cannot see that the society is absolutely different today and there are no similar moods in the majority of the society. They are closed in one narrow circle cheating each other. Their statements are absolutely unserious," Merabishvili said.
"These people are so few, so weak that they can not do anything – neither what they are saying they will do nor even a third of what they often threaten to do."
Asked if there was any possibility of Georgia being thrown back in early 1990s, when paramilitary groups were largely in charge of the country, Merabishvili said it was "not serious" and it was not a threat at all.