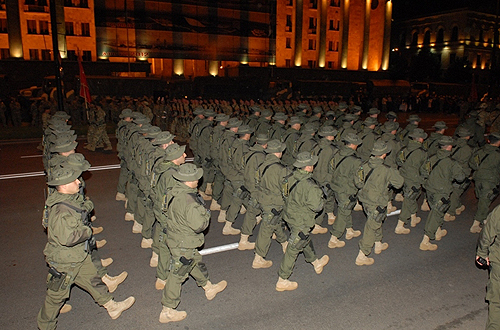 Georgian troops march on the Rustaveli Avenue overnight on May 18 in rehearsal of the military parade planned for May 26 to mark the Independence Day. Photo: Georgian MoD.
The Georgian troops are continuing preparation for the military parade to mark the Independence Day on May 26, Salome Makharadze, a spokesperson for the Georgian Ministry of Defense, told Civil.ge on Monday.
She said that the parade would be held as planned and there was no intention to drop those plans.
Earlier on Monday Nino Burjanadze, ex-parliamentary speaker and key figure behind ongoing protest rallies, told supporters outside the public broadcaster that they should not allow authorities to "quietly" and "comfortably" hold a military parade.
The Georgian troops held series of night-time parade rehearsals on the Rustaveli Avenue last week.
"I do not know whether more rehearsals will be held on the Rustaveli Avenue; but military units keep preparing for the parade every day in their bases," the MoD spokesperson said.
Burjanadze told protesters on Monday that at noon on May 25 the protesters would march from the Kostava Street, where they are currently rallying, towards the Freedom Square "in order not to let the authorities hold the parade on May 26 quietly".
The military parade to mark the Independence Day is planned to be held on Rustaveli Avenue, outside the Parliament building in an immediate vicinity to the Freedom Square.