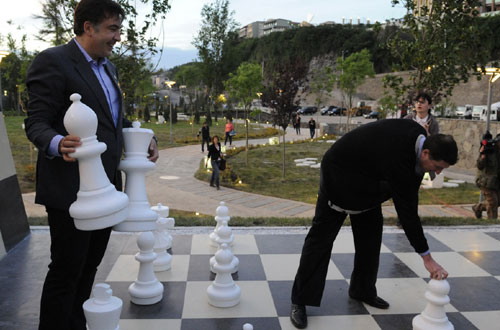 President Saakashvili (left) and Tbilisi mayor Gigi Ugulava (right) play chess during the opening of a new park in Tbilisi on May 24. Photo: Irakli Gedenidze/President's Press Service
President Saakashvili said, referring to the protest rally, that there was nothing strange in "a masquerade" going on in Tbilisi, which he said was "ridiculous" to him.

Speaking at an opening of a new park in the Old Town of Tbilisi on May 24, Saakashvili said that in Georgia's history there had always been some feudal lords in Georgia who were going to the capitals of various empires telling them "I am the chief in Georgia and I will hand Georgia over to you, but of course post of a king should belong to me."
"There is nothing strange that some stage masquerades on the streets," he said. "It's like déjà-vu for Georgians."
"The difference, however, is that if in the past Georgia really was divided into fiefdoms… with regions divided, now we have the Georgian state," Saakashvili said.
"I will tell you why they need these masquerades: maybe someone will postpone a visit [to Georgia] after seeing this masquerade on TV – and they pay for it [for TV coverage]; or maybe an investor changes mind to build a hotel [in Georgia] or a tourist may no longer visit [Georgia]."

"One man is choke up with anger when seeing foreign tourists coming into Georgia, because he believes that all these belong to him… that man thinks that the Soviet and FSB border guards should be standing here," Saakashvili said referring to Russia's PM Vladimir Putin.
'My and Putin's Dreams Clashed'
Earlier in the same speech Saakashvili said that Georgia's reforms and achievements of recent years was causing "irritation of the imperial space and its leader Mr. Putin."
"I have never had any personal conflict with him and any personal incompatibility or an exchange of verbal barbs, at least from my side," Saakashvili said.
"But our major dreams have clashed with each other," he continued. "That man's dream – and he said it frankly – was to restore the Soviet Union, reunification of the space which once was called the Soviet Union. Georgia has always been the pearl of this space, crown of this space."
"Our dream was to create united Georgia oriented on the values of democratic freedoms… having a leading role in the world."
"He [Putin] also wanted restoration of what he perceived to be his homeland and we also wanted restoration of our homeland. But we have different homelands. The Soviet Union is not my homeland. For some – they are in minority, including in Georgia – the Soviet Union may still be the homeland."
"The major difference between our and their dreams is that their dream is oriented towards the past, on something which will never be restored and our dream is a desire of having something, which we never had before – creating 21st century, very successful democracy."
"We are adjusted to future and they are oriented towards the past – the future will always prevail over the past. Good is on the future's side and evil on the side of the past – so the good is on Georgia's side," Saakashvili said.