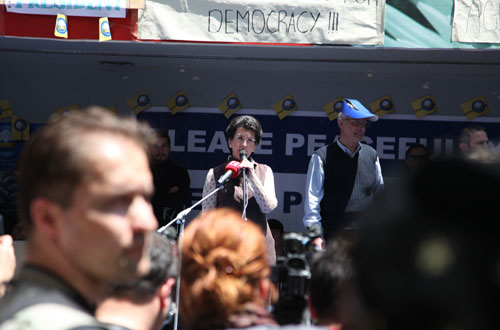 Nino Burjanadze speaks at a rally on May 25. Photo: Guram Muradov/Civil.ge
If the turnout is not large enough at a rally planned on Freedom Square at 3pm on May 25, the People's Assembly will have to change "forms" of struggle against President Saakashvili, Nino Burjanadze, leader of the ongoing street protest, said.
"Of course we are not going to make any coup d'état or any violence; if there is not enough people… of course we will change our plans and we will begin other activities very soon," she told journalist at a protest venue outside the public broadcaster's office on Wednesday after addressing a rally, which is far smaller than the one on the first day of protests on May 21.
Protesters started to march towards the Freedom Square, about three kilometers away from the Kostava Street, at about 2:30pm local time.
Traffic on Kostava Street, which was blocked since May 21 by the protesters, resumed briefly but was again closed by the authorities to fully clear former protest venue of vehicles, which were blocking the street outside the public broadcaster.
Burjanadze blamed small turnout at the rally on "real terror unleashed by the authorities"; she also said that "many activists" from the People's Assembly were arrested and some beaten and called on the human rights groups to look into these cases.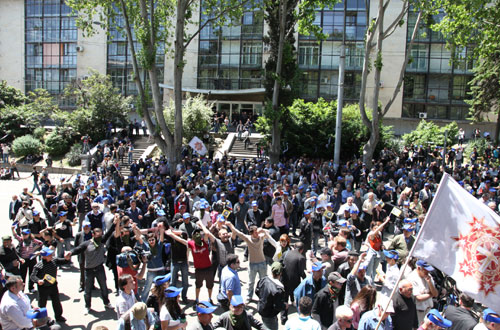 Protesters outside the public broadcaster, May 25. Photo: Guram Muradov/Civil.ge
"A week ago I was saying that we have an autocratic regime; today I can say that this is dictatorship," Burjanadze said.
She said that if the campaign, launched by the People's Assembly, fails it "will be a failure of the people."
"Everything depends on the people," she said. "It will also be my failure as of a citizen, but from the political point of view we really have not failed. Politically we have won, because we, the People's Assembly, have confirmed that we a political force which does not lie and which, despite the authorities terror, managed to assemble such a rally as it was on May 21."