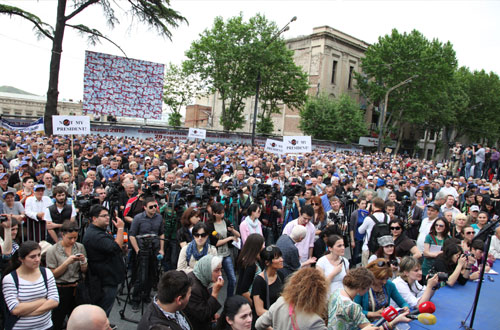 Protesters outside the Parliament, May 25. Photo: Guram Muradov/Civil.ge
Nino Burjanadze told porters outside the Parliament on Rustaveli Avenue that they "have both legal and moral rights to stand here today."
"We will fight to return back our homeland, rights, dignity and this everything will be possible only with endurance," Burjanadze said.

She again called on the population to join the rally, saying that "indifference now amounts to treason."
Burjanadze also said that she would now discuss with other leaders of the People's Assembly what the further actions would be.
"As you see plans are changing along the way," Burjanadze said.
In a move, which was not announced in advance, protesters, marching from their previous protest venue outside the public broadcaster's office, stopped outside the Parliament, blocking the traffic on the Rustaveli Avenue.
Their initial plan was to march towards the Freedom Square, about 300 meters away from the Parliament building, and to hold a rally there at 3pm local time.
Speakers address protesters from a mobile stage on a truck standing outside the Parliament building, May 25. Photo: Guram Muradov/Civil.ge
Protesters are currently staying at the very same venue, which is a site of the military parade, which is planned for May 26 to mark the Independence Day.
Burjanadze said on May 23 that the protesters would not allow the authorities to "quietly" and "comfortably" hold the military parade.
Earlier on May 25 Burjanadze said that the further plans of the People's Assembly, an opposition movement behind the rallies, would depend on the scale of the rally.
Protesters brought their mobile stage on a truck and stationed it outside the Parliament.