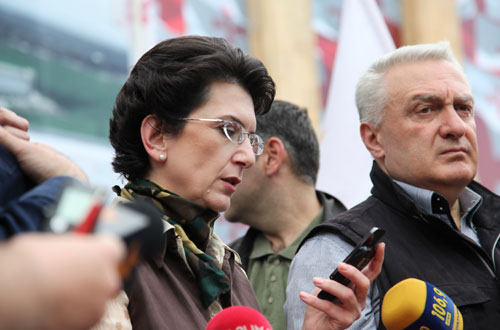 Nino Burjanadze standing outside the Parliament surrounded by journalists. Temur Shashiashvili, who was a governor of Imereti region under Eduard Shevardnadze's presidency stands beside her. Shashiashvili's small opposition party is among those few groups, together with Burjanadze's Democratic Movement-United Georgia party, organizing the ongoing rallies. Those groups are united under the umbrella movement called People's Assembly.
Nino Burjanadze, ex-parliamentary speaker, called on the other opposition forces, to join the ongoing rally outside the Parliament on the Rustaveli Avenue.
Speaking at the rally she said that "now it is time to stand beside the Georgian people and not beside any leader".
"It's never late to stand beside the people," she said and also called on activists of other opposition parties to join the rally even if their leaders would not do so.
All the major opposition parties in the country have distanced themselves from the ongoing rallies organized by the People's Assembly.