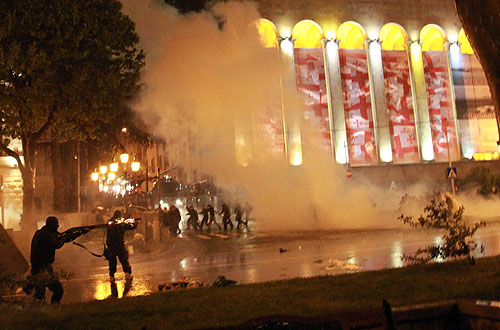 Photo: Guram Muradov/Civil.ge
Riot police used teargas, rubber bullets and water cannons to break up protesters outside the Parliament shortly after midnight, clearing the venue for a military parade planned on Thursday at 11am.
Interior Ministry said that one policeman was killed after he was crashed by a car from a convoy of "one part of rally organizers" as it was leaving the scene at a high speed shortly after the police started to disperse protesters.
Photo: Guram Muradov/Civil.ge
19 policemen were injured and there are wounded among the protesters although no figures were immediate available. Dozens of ambulance vehicles arrived at the scene shortly after the rally was dispersed.
Riot police with shields and truncheons started taking their positions in large numbers on the both sides of the protest venue on the Rustaveli Avenue shortly before midnight on May 25.
Riot police were also deployed on small streets around the protest venue.
About by midnight authorities sent an official from the Tbilisi Mayor's Office to tell the protesters that they were no longer eligible to rally at the venue as their application for the rally was expired by the end of May 25.
Couple of thousand protesters, led by ex-parliamentary speaker Nino Burjanadze, which were gathered under the rainy skies, rejected to accept the authorities' proposal to continue rallying at another location.
Deployment of the riot police did not came as a surprise for protesters as they and their leaders expected such a development.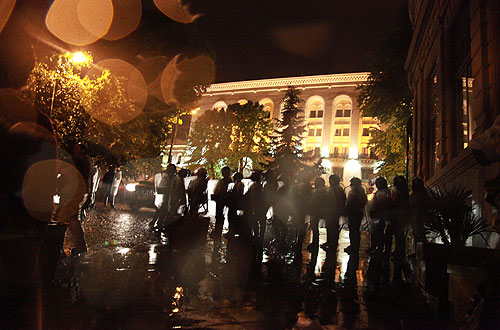 Photo: Guram Muradov/Civil.ge
A woman's voice from the police loudspeakers warned protesters for several times to disperse.
Protest leaders were calling on participants of the rally – part of them holding large plastic sticks and thin wooden shields – to stay.
Shortly after the midnight, riot police moved in from the both sides of the protest venue on the Rustaveli Avenue, in addition from the nearby small streets squeezing many of the protesters at stairs of the Parliament building.
Dozens of protesters, or even possibly more than hundred, were arrested although no exact figures were released yet by the authorities; the Interior Ministry said that those arrested were detained for resisting police.
There were cases when riot policemen were punching arrested, handcuffed protesters.
After the Rustaveli Avenue outside the Parliament was cleared of protesters, police were seen chasing protesters in nearby streets.
Dozens of ambulance vehicles arrived at the scene treating people with some having blood on their faces; one protester had a wound in his left cheek very much resemblng the one inflicted by a rubber bullet or possibly other type of projectile shot from a less-lethal weapon.
Several Georgian journalists reported that police physically assaulted them; some reported that their either video camera or memory card of photo camera was seized. A journalist from the Georgian news agency, InterPressNews, was arrested by the police; he was later released.