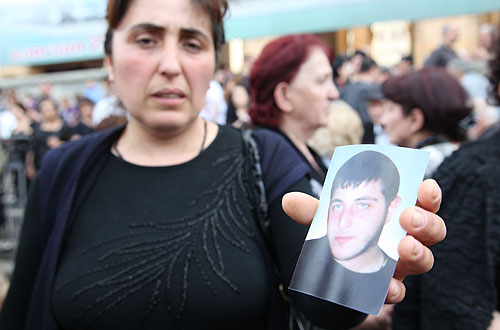 Patima Karosanidze shows at a rally outside the Parliament on May 28 a picture of his 21-year-old son, Demur Managadze, who, she said, is missing since the break up of the protest rally on May 26. She said that her son is an activist of a youth wing of the People's Assembly, an opposition movement which was behind the recent street protests. Photo: Guram Muradov/Civil.ge
(UPDATE to a caption on the photo: few days later Patima Karosanidze was able to find his son in one of the prisons in Tbilisi)
"Whereabouts of several dozen of persons remain unknown" after the protest rally was dispersed by the riot police outside the Parliament shortly after midnight on May 26, Giorgi Tugushi, the Georgian public defender, said on Friday.
Some media reports on May 26 said that there were about fifty persons missing. The Interior Ministry released late on Friday evening list of those, who have been arrested during the break up of the rally. At least ten men from that list were earlier regarded to be missing.
One of those believed to be missing was Irakli Batiashvili, one of the leaders of People's Assembly, an opposition movement which led the recent street protest rallies. Batiashvili, however, returned back home on May 28, claiming that he was hiding as the police wanted to arrest him.
The Interior Ministry said for number of times that it the police had no intention to arrest him and that it was not aware of Batiashvili's whereabouts.
Public Defender, Giorgi Tugushi, called on Interior Minister, Vano Merabishvili, on May 27 "to immediately ensure that the rights of persons detained on the night of May 26 are restored."
"In particular, the Public Defender recommends that the detainees be allowed to contact their family members or lawyers, be provided with adequate medical service, and receive items not prohibited by the legislation through parcels," he said in a statement.
Tugushi said that dozens of arrested protesters were put in detention centers in various regions of the country.
"Only in a few cases did the investigators contact the families of the detainees and notify them of their detention and whereabouts," the Public Defender said.