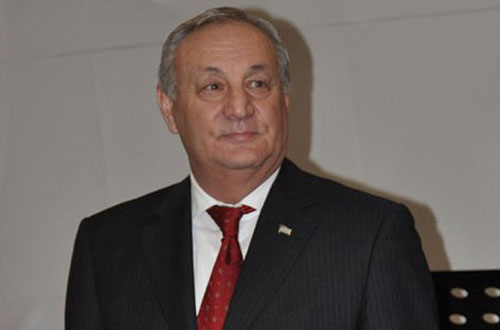 Sergey Bagapsh was de factor president of breakaway Abkhazia since 2005. Photo: Abkhaz government website
Abkhaz leader, Sergey Bagapsh, died on Sunday morning in Moscow hospital after a complication with his recovery process following a surgery on his right lung a week ago, the breakaway region's authorities announced.
Bagapsh, who was 62, served his second presidential term since re-election in December 2009.
According to the breakaway region's constitution vice president Alexander Ankvab will become an interim president before the snap elections are held within three months.
"This is a great loss for the Abkhaz people," Ankvab told the Russian news agency Interfax.
Bagapsh underwent lung surgery in Moscow hospital on May 21. Abkhaz officials were reporting that the surgery was successful and that Bagapsh was recovering. But leaked reports suggested that his health was deteriorating, although those reports were rejected by the Abkhaz officials.
Christian Bzhania, a spokesman for the Abkhaz president, said on May 29, that he spoke with Bagapsh three days ago and he felt better.
"But two days ago his condition unexpectedly deteriorated; he lost consciousness," Bzhania said. "The doctors did everything in their power."
Abkhaz officials said that it was found out after the operation that Bagapsh also had a cancer.

Sergei Bagapsh will be buried in Abkhazia on June 2 in his home village of Jgiarda in the Ochamchire district; memorial services will also be held in Moscow on Monday, according to the Abkhaz officials.
In a message of condolence, Russian President Dmitri Medvedev stressed on Bagapsh's "personal contribution to strengthening of independence" of Abkhazia.
"Sergey Bagapsh was a staunch supporter of friendship and alliance with Russia, tirelessly working on deepening close bilateral ties between our countries," Medvedev said.