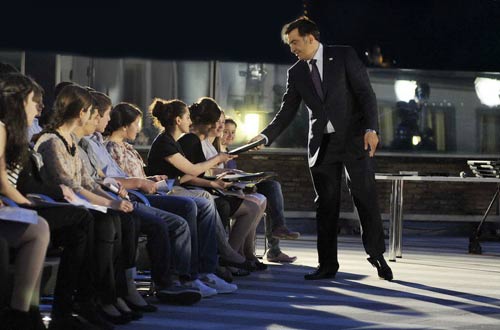 President Saakashvili handing over laptops to a group of young people, those who have highest scores in school leaving exams, at the presidential palace in Tbilisi on June 13. Photo: President's website.
Divisions within the Georgian society, a holdover from the country's past when feuding fiefdoms were in bitter power struggle, are so deeply rooted that even "traitors" have formed separate rival groups in Georgia recently, failing to even "jointly betray" the country, President Saakashvili said on June 13.
"They all have the same agenda - 'let's make a deal with Russia, with our invaders, let's collapse our country and let's put an end to its independence'. But these five or six groups of traitors are eating each other and they have even failed to agree to jointly betray [the country] and they are betraying separately - let's call everything with its own name without any European diplomatic language," Saakashvili said.
Speaking to a group of young people, those who have highest scores in school leaving exams, Saakashvili said that Georgia's history was full of examples when certain forces were betraying the own country in order to gain power, "so there is nothing new" when some forces take money in exchange of attempting to overthrow the government.
He said that with the new generation emerging since gaining independence after the collapse of the Soviet Union, the old way of making politics was gradually changing.
"We are responsible for our own fate. Rules are changing. New generation has emerged, which believes, that everything is being decided not in Moscow, not in Washington or in Australia, but here on the Georgian soil by multiethnic Georgian nation," Saakashvili said, adding that "quite a large number of political groups" were following the new rules of making politics.
He also said that recent street protest rallies, which came to a violent end on May 26 with break up of the anti-government demonstration by the riot police, was financed from Russia. "No one already doubts about it," Saakashvili said.