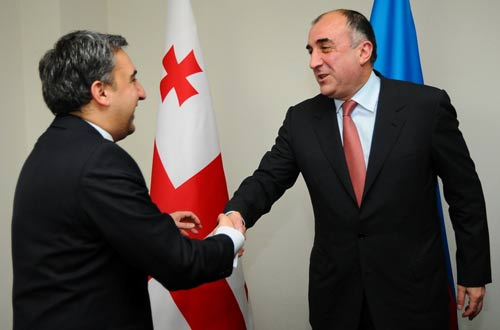 Georgian PM Nika Gilauri (left) and Azerbaijani Foreign Minister Elmar Mammadyarov (right) at a meeting in Tbilisi on June 14. Photo: PM's press office.
Visiting Azerbaijani Foreign Minister Elmar Mammadyarov met in Tbilisi with President Saakashvili and PM Nika Gilauri on June 14.
Joint energy and transportation projects were discussed during the meeting with "special attention" paid to the Baku-Tbilisi-Kars regional railway project, the Georgian PM's office said in a statement.
The Georgian President's administration said that broad range of cooperation issues was discussed during the meeting with President Saakashvili with focus made on regional economic projects.
The Georgian Parliament ratified on May 31 an agreement with Azerbaijan through which the latter will allocate additional USD 575 million loan to a Georgian state-owned company to complete construction of the Baku-Tbilisi-Kars railway section, which will link Azerbaijan to Turkey via Georgia.
The loan will be allocated to the Marabda-Kartsakhi Railway, a state-owned company established in 2007, which is in charge of the Georgian section of the major regional railway project.
In 2007 Azerbaijan agreed to lend USD 200 million to Georgia to finance construction and rehabilitation of its portion of the railway and with the latest loan total amount will now go to USD 775 million.
During his two-day visit in Tbilisi the Azerbaijani Foreign Minister also met with his Georgian counterpart Grigol Vashadze and Parliamentary Chairman Davit Bakradze.