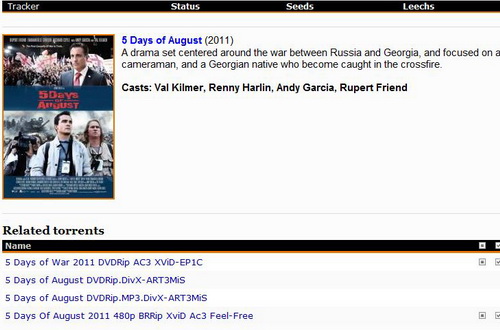 Screengrab of one of the torrent websites where bootlegged copy of the 5 Days of August is available.
(UPDATE – adds GNCC comment in fifth paragraph and a separate, seventh paragraph on YouTube upload)
Ten days after a much-hyped red-carpet premier of 5 Days of August, the movie about 2008 Georgia-Russia war, the film became widely available on local and foreign pirate websites, prompting authorities to force those local sites to remove the bootlegged copy – unusual step in Georgia, where illegally distributed copyrighted material is widespread over the Internet.
The Georgian National Communications Commission (GNCC) said in a statement on June 15, that it had been informed by the Georgian Authors' Society that the pirated "5 Days of August" was illegally available on ten various Georgia-based websites.
"GNCC will resort to all the available measures, including requesting owners of these websites to eradicate infringement of the law, and in case of failure to do so, will demand from authorized providers of hosting of those websites to block access to those sites," GNCC said.
On June 16, the movie, filmed with Georgia's backing, was no longer available on the Georgian websites, which regularly and illegally distribute copyrighted material. The websites themselves, however, remain functional, as do the various pirated software and other materials uploaded on them.
GNCC says that it has the authority to react on an alleged copyright infringement if a complaint is filed to the commission. It says GNCC has no authority to regulate content on websites, although in case of a complaint it has the right to indicate to a hosting provider to secure protection of copyright and related laws by a website to which it is providing a hosting.
Georgian internet providers have blocked access to several torrent sites, including some Russian-based websites, which had the movie uploaded. They are, however, still accessible by means of using proxy-servers, a method which was largely employed by internet users in Georgia during the 2008 August war, when .ru domain was blocked by the authorities.
Also on June 16 the movie was uploaded on YouTube as unlisted video, meaning that it does not appear on YouTube's search or in the website's other public spaces and only people who know the link to the video can view it.
According to a study released this May by the Business Software Alliance (BSA) Georgia is the world's top pirated software user.
The 2010 Piracy Study by BSA, a group formed by the world's leading software manufacturers, says that 93% of software installed in Georgia is considered to be bootlegged.
Several most popular Georgian websites hosting illegal content, involving pirated music, movies, videogames and software, are affiliated with one of the country's largest internet providers, Caucasus Online.