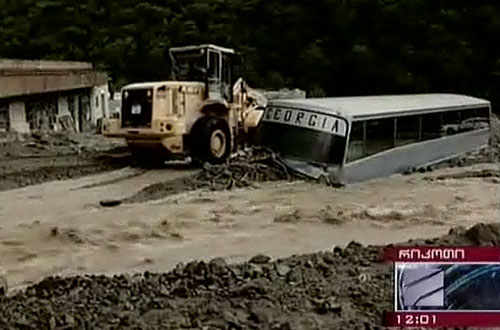 A screengrab from Rustavi 2 TV showing a bus stuck in the mud at the Rikoti pass.
Mudslide in central Georgia killed at least four people last night and damaged key road at a two-kilometer tunnel in Rikoti pass linking eastern Georgia with the western part of the country.
Heavy rains sparked a mudslide that hit a roadside restaurant, buses and cars at Rikoti. Two employees of the restaurant were killed.
Heavy rains damaged roads and flooded houses in several villages of the Khashuri district as well in Shida Kartli region.
Bridges and roads were also damaged by the flooding in another part of the country – Dusheti district in Mtskheta-Mtianeti region.
In last few days significant damage has been caused by heavy rains in other parts of the country as well, in particular houses and farmlands were flooded in several villages of Akhmeta, Kvareli, Gurjaani and Telavi districts of the Kakheti region.