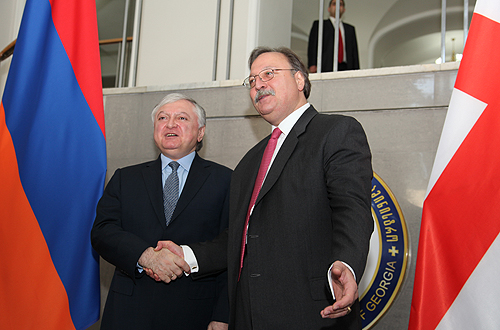 Foreign Ministers of Armenia Edward Nalbandian (left) and his Georgian counterpart Grigol Vashadze (right) at a meeting in Tbilisi, June 29. Photo: Guram Muradov/Civil.ge
Foreign Ministers of Armenia and Georgia, Edward Nalbandian and Grigol Vashadze, respectively, who met in Tbilisi on June 29, praised intensive bilateral relations between the two countries.
"We have an agreement to hold bilateral meetings three, four times a year," Grigol Vashadze, the Georgian foreign minister said in brief statement after the meeting. "Sometimes question is asked 'do you have so many problems that you have to meet so often?'. Just in order not to have problematic issues in Armenian-Georgian relations, we, me and my friend and colleague Edward Nalbandian, are holding meetings."
"Never before relations between our two countries have been like they are now; although we have never had bad relations; the Presidents of the two countries have largely contributed to this," Vashadze said.
"Of course there are issues in bilateral relations, which require to be discussed and to be resolved. But there are no issues, which can not be resolved through talks and agreement," said Armenian Foreign Minister Edward Nalbandian.