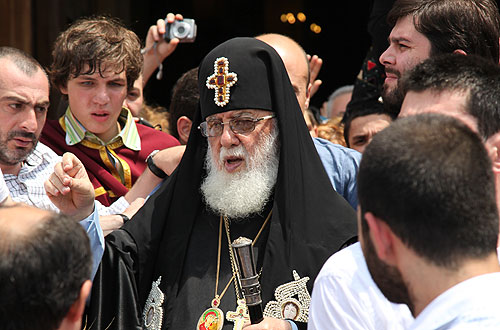 Patriarch of the Georgian Orthodox Church, Ilia II, outside the Holy Trinity Cathedral in Tbilisi after a sermon on July 10. Photo: Guram Muradov/Civil.ge
Few thousand of people, led by priests from the Georgian Orthodox Church, marched for second day in Tbilisi on Sunday to protest against legislative amendments on legal status of religious minorities in Georgia.
After the Saturday's protest march, which was one of the largest demonstrations held in Georgia in recent years, Orthodox believers gathered in the Holy Trinity Cathedral to attend a regular Sunday sermon by head of the Georgian Orthodox Church, Patriarch Ilia II.

"Cases of fighting against the Church and humiliating the Church are very frequent," Ilia II said in his sermon.
"Those who have ever humiliated the Church are punished and they will definitely be punished … The Church will protect you and give you the strength."
"Historically the Church has always been protecting Georgia and our faith; the Church has always been a huge force and it still is a huge force. This force is not directed against anyone… This force is for making people happy. So we should take care of the Church," the Georgian Orthodox Church leader said.
"Today we want to pray for our nation, church and pray for the peace for the authorities and our nation," Ilia II added.
Few hours after the Patriarch's sermon, few thousand people, led by the clerics from the Georgian Church, marched towards the Parliament.
By late afternoon the demonstrators arrived on the Rustaveli Avenue; they marched around the Parliament building after which the rally dispersed.
It emerged on Sunday that Holy Synod, a main decision-making body of the Georgian Orthodox Church, will hold a meeting on July 10. The meeting was apparently summoned in order to discuss recent developments surrounding the legislative amendments on religious minority groups' legal status, which has turned into a source of one of the most serious showdown between the Georgian Orthodox Church and President Saakashvili's administration.
The Georgian Orthodox Church and its leader, Ilia II, said for number of times in recent days that they were not against of granting legal status to religious minorities. The Georgian Church, however, was calling for thorough and lengthy discussions over the issue and on the other hand it was also insisting that such move should only have been taken if a similar status was granted to the Georgian Orthodox Church in neighboring countries, in particular the focus was made on Armenia.
The Georgian Orthodox Church's multiple calls on the authorities not to hurry with adoption of the legislative amendment went unheeded and it was passed with three readings in a course of five days with second and final voting held on July 5. The bill was signed into law by President Saakashvili on the same day and it went into force next day, on July 6.