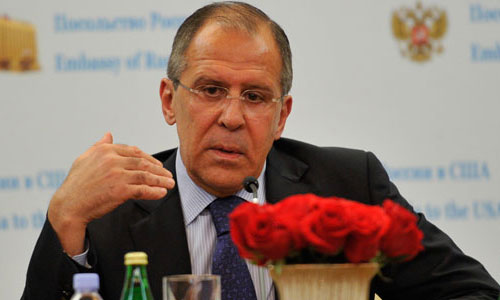 Russia's Foreign Minister, Sergey Lavrov, speaking at an event co-hosted by the Russian embassy in the U.S. and the Washington-based think-tank the Center for Strategic and International Studies (CSIS), July 12. Photo taken from
CSIS website
.
Transparency of trade across Russia's border with Abkhazia and South Ossetia "can be ensured the way which satisfies everyone," Russia's Foreign Minister, Sergey Lavrov, said on July 12 in Washington, while commenting on the Swiss-mediated WTO talks between Tbilisi and Moscow.
Asked about Tbilisi's demand for international monitoring of dispute border and whether he believed that WTO-related issue could be resolved with Georgia, Lavrov responded: "If we all concentrate on WTO rules and do not go beyond those rules into some politics, yes it's very much doable."
"We responded positively to the Swiss proposal to mediate those Russian-Georgian discussions to finalize the WTO issues," the Russian Foreign Minister said in Washington on July 12, while speaking at an event co-hosted by the Center for Strategic and International Studies and the Russian embassy in the U.S.
"The Swiss produced a paper for the Georgians and us to consider," he continued. "I think the paper is logical and conceptually it's right, because it does not deviate from WTO agenda problem."
"The customs control on the Russian borders can be transparent. This is what the Swiss suggested. And this transparency can be ensured the way which satisfies everyone. I don't want to go into the details. But yes, if politics don't interfere, it's not very difficult to do," Lavrov said.
Georgian and Russian negotiators held third round of the Swiss-mediated talks over terms of Russia's WTO accession in Geneva on July 9-10 in which, according to the Georgian Foreign Ministry, experts of customs affairs were also invited.
On July 8, just before the third round of talks, President Saakashvili said in an interview with the Ekho Moskvy radio station, that accepting Tbilisi's demand for international monitoring of trade across disputed border will be "minimal price" for Russia to pay for joining.
He said that the World Customs Organization (WCO), EU or any regional organization, "where there are at least several serious countries", could be chosen for carrying out monitoring on border crossing points at Psou and Roki Tunnel in Abkhazia and South Ossetia, respectively.
"We do not want to resolve all of our problems at the expense of [Russia's] WTO [accession]," Saakashvili said. "We understand it very well that we should not expect any serious changes for better under the present leadership in Russia and we should not expect de-occupation of our territories unless present stance is maintained in the Kremlin."
"But we would like that any of the international organization... to control movement of goods across the Georgian borders [in breakaway Abkhazia and South Ossetia], which are recognized by the entire responsible international community," he said.
"I think this is a minimal price for Russia to pay" for joining WTO, Saakashvili added.
After a meeting between U.S. President Barack Obama and Russian Foreign Minister Sergey Lavrov in Washington on July 13, the White House said that President Obama "reaffirmed his strong support for Russia's efforts to complete its WTO accession process this year."
U.S. Secretary of State, Hillary Clinton, said after meeting with his Russian counterpart on July 13, that Washington "strongly support[s]" Russia's WTO membership.
"Russia's membership would allow us to increase trade and deepen our economic ties. This is a high priority, and a priority for President Obama and the Administration. It's part of our broader global effort to promote a rules-based system of economic competition," she said.