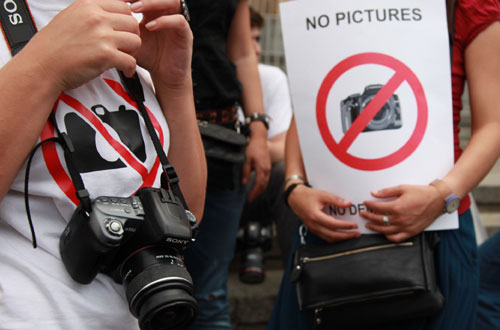 An image of cross barred photo camera in a red circle with a caption "No Pictures - No Democracy" has become a symbol of protest over the arrest of photojournalists. On Saturday evening several local media organizations, among them Maestro TV and radio stations; Kavkasia TV; Gori-based Trialeti TV; Batumi-based Channel 25; Obieqtivi.net; PalitraTV.ge and Palitra radio station will simultaneously broadcast in live an hour-long joint program to discuss the arrested photographers' case.
Investigation into the case of arrested photojournalists, charged with espionage in favor of Russia, "is nearing its end and the court proceedings will start in the nearest future," Shota Utiashvili, head of the Interior Ministry's information and analytical department, said on July 15.
He said that trial might start earlier than September 1 – the date set by the Tbilisi City Court for preliminary hearing.
"We are not intending to present [publicly] any additional evidence; the trial will be open for the public and you will be able to attend those hearings and study the evidence into the case," Utiashvili told journalists.
Meanwhile, the International Federation of Journalists (IFJ) has called on the Georgian authorities to release arrested photojournalists on bail.
"Accusations of spying against journalists should not be made lightly," said Jim Boumelha, IFJ President, expressing concern that the case has been classified as secret.
The Georgian authorities have pledged that the most of the trial into the case would be open for the public, except of "small parts" when documents containing state secret would be heard at the court hearing.
Zurab Kurtsikidze, photographer for the Frankfurt-based European Pressphoto Agency (EPA); Irakli Gedenidze, President Saakashvili personal photographer and Giorgi Abdaladze, a freelancer who also was a contract photographer with the Georgian Foreign Ministry and also worked as a stringer for the Associated Press were arrested on July 7 and charged with espionage. Gedenidze gave videotaped confession station to the police. Gedenidze's wife, also a photographer for a local newspaper, Natia Gedenidze, who was also arrested into the same case was released on bail.
The Interior Ministry claims that Kurtsikidze is a "long-time agent", who was providing the Russian military intelligence with confidential information obtained with the help of Gedenidze and Abdaladze.
AP photographer Shakh Aivazov was also taken by the police on July 7, but was released on the same day without being charged.