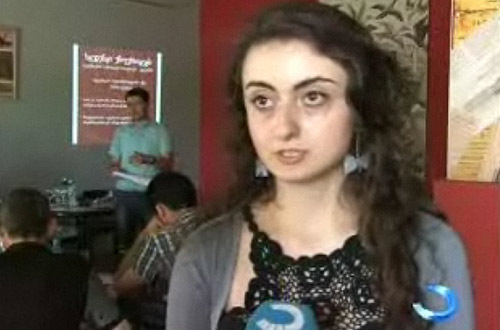 In this TV grab Tamta Liparteliani is seen speaking to Adjara TV journalist at an event organized by Young Socialists of Georgia in Batumi on July 3, 2011.
Tamta Liparteliani, 23-year-old Georgian citizen who was reported missing after a gunman killed 68 at youth camp on Norway's island of Utøya, has been identified as being among the dead, a Georgian official said on Thursday.
"Our worst fears were confirmed," Nino Kalandadze, the Georgian deputy foreign minister, said on July 28. "We were notified [by the Norwegian authorities] this morning, that the girl was identified as being among the dead. It's a huge tragedy for all of us."
She said Liparteliani's parents, who arrived in Oslo on July 27, had been informed about the finding this morning.
Native of Kutaisi, Georgia's second largest city in western part of the country, Liparteliani was among participants of the summer camp organized by the youth wing of the Norway's ruling Labor Party. She was an activist of Kutaisi branch of movement Young Socialists of Georgia.
Another Georgian participant of the youth camp, Natia Chkhetiani, an activist of the same movement survived in the attack.
The Georgian Deputy Foreign Minister said that identifying of Liparteliani was made possible after the Georgian side sent to the Norwegian authorities her biometric data on July 27.