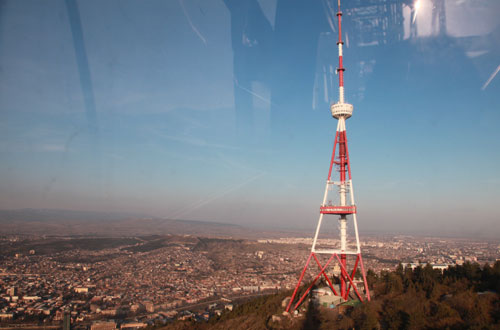 View of TV tower from Ferris wheel in Mtatsminda Park overlooking Tbilisi. Photo: Guram Muradov/Civil.ge
A group of media activists and journalists, joined by some opposition politicians, gathered on July 28 outside the Economy Ministry to demand transparency in ongoing auction for outsourcing management of a state-owned firm in charge of TV tower.
An online auction for taking over management rights of Alfa-Com, formerly the Georgian TeleRadioCenter, for a four-year period started on July 18 and will be closed at 5pm local time on August 1.
The starting price was GEL 100,000; there was only one bid made as of Thursday evening and the price is now set at GEL 110,000; this only bid was made on July 22. One of the terms for taking over the company's management is to invest at least USD 12 million over next four years.
The state-owned company Alfa-Com manages 274-meter high TV tower in Tbilisi and 35 other smaller towers throughout the country, serving more than 30 radio and 16 TV stations.
Nino Jangirashvili, owner and director of Tbilisi-based Kavkasia TV, is spearheading the campaign against the auction.
She says that there are several concerns about the government's plans; one, she said, is related to future fees the televisions will have to pay after a private company takes over the management.
Jangirashvili says that her television channel now pays about GEL 3,300 per month as it has one transmitter and one relay server for live streaming on the TV tower. It will be a serious financial burden for small television stations if the fee goes up, she said.
Law on broadcasting obliges the Georgian TeleRadioCenter (in the law the company is still referred with its previous name; the firm was renamed into Alfa-Com on July 4) to secure "non-discriminative and equal access" to its infrastructure for all the broadcasters and to also secure "non-discriminative fees" for all of its clients.
The opponents say that they are also concerned over lack of information about the ongoing auction; Jangirashvili said that she had applied to the Economy Ministry as a potential investor willing to learn more about the state-owned firm and the infrastructure it was running, but was denied in receiving more details other than those indicated in the auction announcement.
"That makes me think that the auction is a mere formality and they [the authorities] already know to whom they will hand [management of Alfa-Com] – it will be someone with close links to them [the authorities]," she said.
Minister of Economy and Sustainable Development, Vera Kobalia, dismissed opponents concerns saying that the process "is fully transparent."
"Any company can participate in the auction; 12 million should be invested and any company, which is ready to improve service and install new equipment, can obtain the management rights," she said.
Opponents of the government's decision also suggest that the decision to auction management rights of Alfa-Com might also be related to Georgia's commitment to switch from analogue to digital broadcasting by mid-2015.
The model of the switchover is not yet clear and it has yet to be defined who's going to broadcast the digital signal and whether a producer of a program will also have the right to broadcast it. Opponents fear that the authorities are now preparing ground for creating a monopoly in charge of broadcasting the digital signal when the switchover happens after four years.