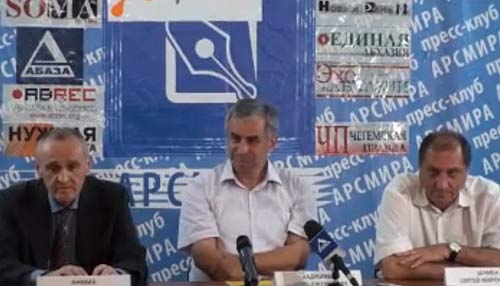 From left to right: Alexander Ankvab, Raul Khajimba and Sergey Shamba speaking with journalists during a joint news conference on August 12. The three candidates gathered together again on August 18, when
they were summoned
by former and sitting Abkhaz lawmakers for a closed door hearings.
Voters in Abkhazia will cast ballot on Friday to elect third leader of the breakaway region in early election three months after death of Sergey Bagapsh, who led the region since 2005.

The breakaway region's vice president Alexander Ankvab, prime minister Sergey Shamba and former vice president Raul Khajimba, backed by opposition party Forum of People's Unity of Abkhazia are running for the five-year term presidency.
The three-man race has no obvious front-runner, but some observers, following Abkhaz developments closely, say Ankvab, who is partly positioning himself as a successor of the late leader Bagapsh's course, has better chances of success.
Election season in Abkhazia will be prolonged for two more weeks if none of the candidates garner more than half of the votes in the first round. Observers predict that in case of such a scenario Ankvab and Shamba are better positioned to face each other in the runoff.
The most heated moment of the campaign came on August 15, when supporters of Shamba organized an outdoor screening of a video interview with Tengiz Kitovani, notorious in Abkhazia for his role as a leader of the Georgian armed forces during the war in early 1990s. In the interview Kitovani, who now lives in Moscow, claimed that Ankvab was cooperating with Tbilisi during the war.
After screening of the video Ankvab accused Shamba of resorting to black PR, which all the three candidates promised not to use when with cordial smiles and vigorous handshakes signed "clean and fair election" pledge two weeks earlier.
Although Shamba himself tried to distance from the screening of controversial video interview saying that he had nothing to do with organizing the outdoor screening, his campaign team issued a statement calling on the prosecutor's office to investigate Ankvab's war-time activities, when he was the interior minister of the breakaway region after serving as deputy interior minister of Soviet Georgia in late 1980s. No such calls, however, were voiced by the Shamba's campaign team since then. Ankvab said he was not paying too much attention on these allegations against him, because the screening, he said, had "boomerang effect" for its organizers.
During the campaign Shamba was accused of populism for promising voters to increase pensions for almost ten-fold.
In an interview with RFE/RL's Russian-language service, Ekho Kavkaza, on August 24, Shamba said that all of his promises were possible to materialize through curbing shadow economy. He said populism was a promise made by Ankvab, pledging to direct millions in support of the agriculture. He also said that tourism, not agriculture should be in the center of the region's economic development. Shamba also says that if wins he will only serve one term without seeking the second one.
The first ever live televised debates between the candidates were expected to become a culmination of the campaign, but the event was canceled just hours before the planned debates on August 20, when Sergey Shamba was slightly injured in a car accident.
This confrontation between the two candidates - Ankvab and Shamba - has overshadowed a campaign by Raul Khajimba.

Khajimba was the breakaway region's vice-president in 2005-2009. He took over the post as a result of a power-sharing agreement with late Abkhaz leader Sergey Bagapsh following a fiercely disputed presidential election in 2004.

Although in those elections Khajimba's presidential bid was publicly backed by Moscow, in recent years he has been trying to position himself as a critic of Abkhazia's overreliance on Moscow; he has been criticizing authorities for ineffective use of the Russian aid funds.
Early this month Shamba and Khajimba expressed concerns over voters list and made a joint appeal to the Parliament to amend the law and impose limit on election day voter registration. Although Ankvab acknowledged "shortcomings", he refused to join the appeal saying that it was inappropriate to amend the election code just before the elections.
Nugzar Ashuba, speaker of the Abkhaz parliament, is now an acting president of the breakaway region, as Ankvab, had to take leave of absence from his post of vice president during the electoral campaign.
Tbilisi considers upcoming elections as "illegitimate", held "under the condition of occupation".