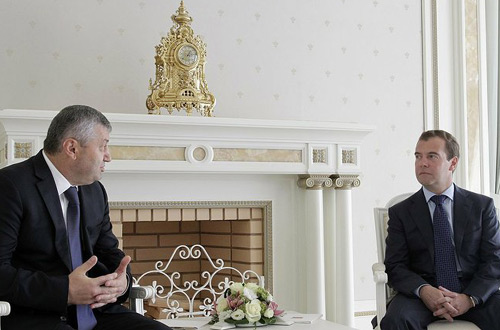 Russia's President Dmitry Medvedev (right) meets breakaway South Ossetia's leader Eduard Kokoity in Sochi, August 25. Photo: Kremlin website.
Russian President Dmitri Medvedev met with incumbent South Ossetian leader Eduard Kokoity in Russia's Black Sea resort of Sochi on August 25.

The meeting was held on the eve of three-year anniversary of recognition of Abkhazia and South Ossetia by Russia following the 2008 war.
"Three years have already passed since then; the republic is developing; there are achievements; there are difficulties, which are always accompanying the development. So let's talk about strengthening of bilateral interaction and international issues related to the development of your state," Medvedev said.

Kokoity thanked Medvedev for his "not an easy, timely, very responsible and courageous" decision to recognize South Ossetia.
"Our inter-state relations are developing very effectively and dynamically. Much has changed since our last meeting [in August, 2010 in Sochi]," Kokoity said.
Kokoity, with whom the Kremlin reportedly "got disappointed" for misuse of Russia's aid funds, told Medvedev that assistance programs provided by Russia to Tskhinvali were being implemented "effectively."