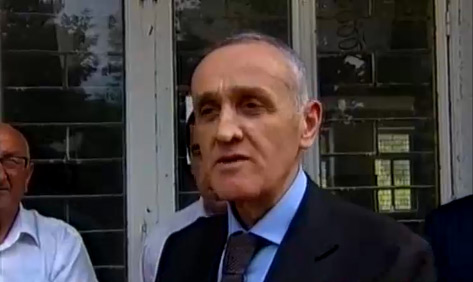 Alexander Ankvab speaks with journalists outside the polling station in Sokhumi, August 26.
A campaign team of Alexander Ankvab claims the vice president of the breakaway region has won August 26 presidential election.
With no official results yet available from the breakaway region's central election commission (CEC), reports about early results are mainly based on candidates' representatives in the precincts.
Russian news agency, RIA Novosti, is reporting quoting one member of the CEC that Ankvab received more than half of the votes and the runoff is not likely.
Ankvab himself told another Russian news agency, Interfax, that such result is not a surprise for him.
Earlier another candidate Raul Khajimba although confirmed that Ankvab was leading, but claimed the vice president had less than 50% of votes sending the race into a runoff between him and Ankvab.
CEC said earlier that it would announce early official results by the noon on August 27.