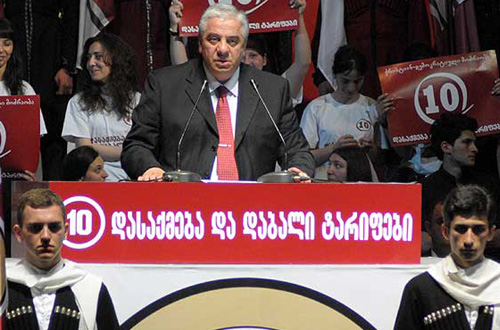 CDM's mayoral candidate, Giorgi Chanturia, speaks at his campaign rally in Tbilisi on May 28, 2010. Photo: InterPressNews
A confidential diplomatic dispatch from series of leaked U.S. embassy cables suggests that Tbilisi mayoral candidate of Christian-Democratic Movement (CDM) in May, 2010 local elections, Giorgi Chanturia, had "no real interest" in running for mayor, but was "encouraged" to run by the Georgian government allegedly in exchange for latter's support to his energy project.
Chanturia, once an influential figure in ex-president Shevardnadze's administration, was head of the Georgian International Oil Corporation (GIOC) for nine years, before September, 2004, when he was dismissed. After that he left the country and worked in Baku advising Azerbaijani state energy company on oil and gas projects.
He re-emerged on the Georgian political scene ahead of May, 2010 local elections as Christian-Democratic Movement's Tbilisi mayoral candidate, prompting speculation in the press and among some other opposition parties that the move was agreed with the government in an attempt to split overall opposition votes to benefit incumbent Tbilisi mayor and ruling party candidate Gigi Ugulava.
Chanturia, who received 10.7% of votes in the Tbilisi mayoral race, again disappeared from Georgia's political scene shortly after the May 30, 2010 local elections.
In the February 22, 2010 cable U.S. ambassador, John Bass, gives a detailed overview of Georgia's electoral campaign three months before the local elections, which also involved first-ever direct mayoral election of the capital Tbilisi.
"Chanturia admitted to an Embassy contact that he had no real interest in running for mayor, but had been encouraged by the GoG [Government of Georgia] to run. If he ran, Chanturia was reportedly told that the GoG would support an energy project he hopes to develop on the Black Sea that involves refining and transit of CNG/LNG [compressed natural gas/ liquefied natural gas]," the cable reads.
According to the same dispatch leader of CDM, MP Giorgi Targamadze, told a U.S. embassy diplomat that his party had "little to no chance of winning the Tbilisi mayoral race" and was instead focusing on endorsing its candidates in local councils nationwide.
The cable says that by nominating Chanturia, Targamadze "opens himself up to criticism of being a GoG stooge", but nevertheless CDM "clearly views the electoral utility of running Chanturia as worth the risk."
"Chanturia appears to provide the best of limited options; a self-funded candidate who will keep CDM relevant in Tbilisi but whose loss would do little to harm Targamadze personally or CDM's brand. By backing Chanturia, CDM can focus on down ticket races; maintain its support (roughly 10 percent) in Tbilisi; and give its organization a good electoral test run," the cable reads.
"Gachechiladze could be 'purchased' at any moment"
In other key observations laid out in the same cable about the electoral campaign, the U.S. Ambassador notes that "diligent, focused efforts" by the ruling National Movement party and its Tbilisi mayoral candidate "appear likely to pay electoral dividends while the non-parliamentary opposition is turning what should have been a solid electoral opportunity into a likely failure."
In the Tbilisi mayoral race Gigi Ugulava was re-elected with over 55% of votes with his main rival Irakli Alasania, leader of Our Georgia-Free Democrats, garnering 19%.
The same cable noted, that three months before the elections, in contrast to Ugulava, who was actively campaigning, Alasania was spending "a large share of his time outside of Georgia" and when in Tbilisi, he "rarely if ever spends time among the public or does any sort of retail level campaigning."
At the time Alasania and his team were engaged in a failed attempt to secure support of an opposition figure, Levan Gachechiladze, which could have boosted Alasania's mayoral bid.
"Privately, Alasania's team has repeatedly told Poloff [embassy political officer] that Gachechiladze has assured them that he supports Alasania, but would only announce his support publicly at a 'key moment'. Nevertheless, Alasania insiders question Gachechiladze's commitment, noting that he could be 'purchased' at any moment, and the Alliance [for Georgia – a coalition, which was backing Alasania's mayoral bid] simply does not have the funds nor inclination to meet what could be a substantial asking price," the cable reads.