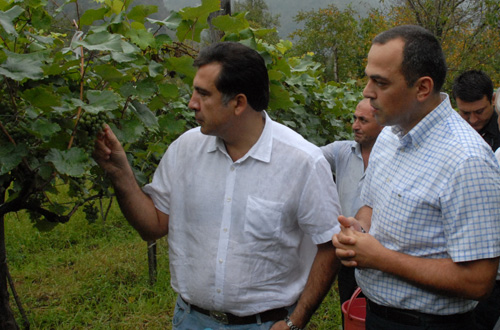 President Saakashvili (left) with head of Adjara Autonomous Republic's government Levan Varshalomidze (right) in a vineyard of a rare variety of Chkhaveri in Adjara, September 4. Photo: President's press office.
President Saakashvili continued touring vineyards on Sunday visiting a wine producing enterprise in Adjara, following his trip to Kakheti on Saturday, again stressing that Georgia diversified export of its wine after Russia imposed embargo in 2006.

He said on September 4 in Keda, Adjara Autonomous Republic, that before Russia's embargo Georgia was selling one million bottles of wine in Ukraine, but this year the figure would increase to "eight million and next year – to ten million." He also said that export of Georgian wine increased seven-fold to Belarus and eight-fold to Kazakhstan and Azerbaijan.
A day earlier in Kakheti he said that despite progress in diversifying wine export markets, a lot still remains to be done to increase exports especially in the Baltic states, Poland and the United States.
Official figures from the state statistics office show that value of exported Georgian wine is still lagging far behind to pre-Russian embargo figures.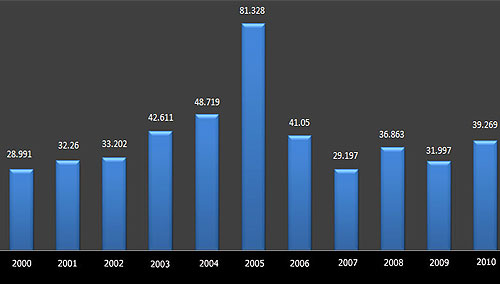 Value of exported Georgian wine by years; all figures in millions of US dollars. Source: the state statistics agency Geostat. Russia banned import of Georgian wine in late March, 2006.
Value of exported Georgian wine picked in 2005, when it doubled to USD 81 million; the figure halved following year to USD 41 million after Russia banned import of the Georgian wine in March, 2006; it further declined to USD 29 million in 2007. A tentative upward trend was visible in following years with value of exported Georgian wine increasing to USD 36.6 million in 2008; USD 32 million in 2009 and USD 39.2 million in 2010.
In the first seven months of 2011 value of exported wine was USD 27.51 million, according Geostat, the Georgian state statistics agency.