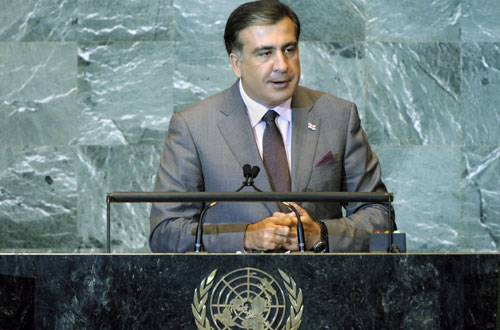 Saakashvili addressing the UN General Assembly's annual general debates, September 22. UN Photo/Lou Rouse
Twenty years after the collapse of the Soviet Union it is time to understand that the world has changed and no government or army as powerful as it might seem can "unilaterally and freely dismember sovereign nations," President Saakashvili said in his address to the UN General Assembly on September 22.
His twenty minute-long speech was built around the two anniversaries - the collapse of the Soviet Union twenty years ago and 9/11 attacks ten years ago, saying that he was "surprised" non of the 43 leaders who spoke at the General Assembly before him did not mention these two "remarkable anniversaries."
Referring to Russia's PM Vladimir Putin's 2005 remarks, Saakashvili said the collapse of the Soviet Union "was clearly not, as one of nostalgic leaders put it, 'the biggest geopolitical catastrophe of the twentieth century'." He said it was neither the end of the history as some pundits and diplomats put it.
Referring to 9/11 attacks on New York and Washington, Saakashvili said "real catastrophe" happened ten years after the Soviet Union collapsed, reminding everyone that the world was still "a battlefield".
He said colored revolutions, progress of democracy in Africa and most recently the Arab Spring - "non would have been possible if the Soviet Union still existed as a global player and global threat."
To those who erect "mental and physical walls" and who see extension of European Union and NATO as a threat "I would like to say that the Cold War ended in December, 1991 and they should not be afraid of having democratic neighbors wishing to join wider democratic clubs," Saakashvili said.
On Georgia-Russia conflict he said that almost year after solemnly pledging that Georgia "will never use force to liberate its regions currently occupied by the Russian Federation," Tbilisi was still waiting for Moscow's reciprocal pledge.
Saakashvili made non-use of force pledge while addressing the European Parliament last November.
"Unfortunately, instead of dialogue, the response we have received has come in a form of dozen terrorist acts targeting Georgia - attacks directly organized and supervised, as it is well confirmed by different international actors - by officers of the Russian secret services," he told the UN General Assembly.
"As I speak the Russian Federation militarily occupies twenty per cent of sovereign Georgian territory... As I speak almost 500,000 internally displaced persons and refugees in a country of less than 5 million people continue to suffer because they are denied thier right - a right reaffirmed over dozen of times by this very house - to return to thier homes and villages."
"They can not go back because in Moscow, a foreign leader has decided that thier home is no longer thier home. To such cynicism and brutality we respond with calls for justice and commitment to peace," Saakashvili said.
"The Cold War is over, but some leaders have yet to realize it and stop reasoning in terms of spheres of influence, near abroad domination and zero-sum games. The Cold War is over, but embargo, blackmail and brutal dictates are still used against Ukraine, Moldova or Belarus. The Cold War is over but even the Baltic states have to face manipulations of thier democratic political landscape and neo-colonial games with thier minorities," he said.
On Caucasus region, which was a center point of his UN speech last year, Saakashvili said that "old Soviet habit to play ethnic and religious hatred is still alive" especially in respect of the North Caucasus. He said this region had become "the black hole" suffering with "brutal violence, with displacement and killing of tens, hundreds of thousands of its inhabitants."
"Georgia is responding to this brutal danger by opening its borders, inviting people to come [to Georgia]," Saakashvili said, referring to Tbilisi's decision to introduce 90-day visa-free travel rules for the residents of the Russia's North Caucasus republics.
In his speech Saakashvili also spoke how the Rose Revolution brought into power in Georgia "young reformers" who immediately launched reforms and despite of "mistakes" achieved "astonishing results", making "greatest progress on Transparency International corruption index since 2003 than any other state in the world" and becoming "one of the easiest places in the world to do business."
"There is still lot to be done and we are more committed than ever to pursuing our path of reforms," Saakashvili said.
Chat with Obama
On the sideline of the UN General Assembly President Saakashvili met with his counterparts from Kazakhstan, Kyrgyzstan, Nigeria, Lithuania, as well as with President and Foreign Minister of Switzerland Micheline Calmy-Rey, whose country is a mediator between Russia and Georgia.
Saakashvili had a chance to chat with President Obama on September 21 at the annual luncheon hosted by UN Secretary General Ban Ki-moon for world leaders.The Georgian President's administration said that the two presidents had an "informal" and "friendly" conversation about the bilateral relations between the two countries.
At the luncheon Saakashvili was seated at the head table, where along with UN Secretary General and the U.S. President, some other leaders were also present, including, among others, the Swiss President, as well as President of South Korea and President of newly independent South Sudan.