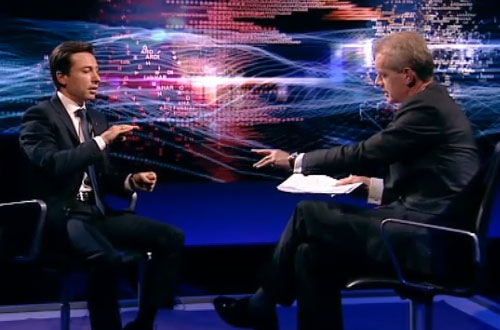 A screengrab of MP Giorgi Targamadze, leader of CDM (left) speaking with Stephen Sakur of BBC's HARDtalk.
MP Giorgi Targamadze, leader of Christian-Democratic Movement (CDM) and of small parliamentary minority group, said in an interview with BBC's HARDtalk on October 6, that his party had introduced "a new political culture in the Georgia, which is based on constructiveness."
Asked whether Saakashvili was "good or bad" for the Georgian democracy, MP Targamadze, whom the anchor Stephen Sackur introduced as "leader of the country's biggest opposition party", responded, that there is no "fully good or fully bad man. Saakashvili has his positive sides and negative sides."
He said that now it seemed that Saakashvili's "negative side" would over-weigh his "positive side." He then continued by saying that Georgia had achieved a lot since the Rose Revolution, including establishing itself as a functioning state; but on the negative side, he said, there was lack of democracy, rule of law and independent judiciary.
Challenged by the host on his "not good, not bad" remarks on Saakashvili, Targamadze responded: "Now in Georgia it's a hard job to be a moderate."
"I am always ready to work with Saakashvili and to be a partner to develop Georgia's democracy and independence. But unfortunately I see lot of shortcomings in his behavior; that's why we have now very harsh debates about Georgia's economy, about political system," he said.
"We [CDM] introduced new political culture in the Georgia, which is based on constructiveness not on destructiveness... and I am very happy that this strategy is becoming more and more popular in Georgia," MP Targamadze said.
From the very start CDM, established by Targamadze in early 2008, was striking a middle ground by distancing itself from those opposition parties, which usually were referred to as "radical." CDM, which in a relatively short period of time managed to develop its party infrastructure, was a frequent target of criticism for being, as opponents put it, ruling party's "satellite" and "stooge." The same allegations have surfaced again just recently when a leaked U.S. diplomatic cable emerged detailing motives of CDM's Tbilisi mayoral race in 2010 local elections; the same cable also showed CDM's very pragmatic streak.
Being "moderate" has been embraced by some others on the opposition front, including by Irakli Alasania's United Georgia-Free Democrats party, established in early 2009. Alasania, who was interviewed by HARDtalk in 2009 during the street protest rallies in Tbilisi, has also been speaking of the need to introduce, as he put it, "new political culture" in Georgia, saying that "radicalization" of the political processes has not yielded results.
The New Rights became the most recent one to join the ranks of "moderates"; the party, which this month re-branded itself changing party symbols, is now repeatedly stressing on the need to give up "radicalism."
Asked during the HARDtalk interview about why CDM, unlike other opposition parties, agreed to compromise with the ruling party and join the deal, which in fact was keeping the existing electoral system favoring the authorities, Targamadze responded: "My principle is to always be part of the political process and to influence on the political process positively."
Like CDM, the New Rights party has also joined that deal with the ruling party, but was snubbed by Alasania's OGFD and five other opposition parties.

On October 6 Targamadze spoke about Georgia's upcoming elections and relations with Russia at the London-based think tank Chatham House - an event titled Georgia at the Crossroads.
Also on October 6 the French Le Monde published an opinion piece by Irakli Alasania, opening with the phrase "Georgia is at a crossroads". In the article Alasania argues that Georgia has a good chance of becoming a successful example of democratic transformation and if it is to get there its western friends, including French President Nicolas Sarkozy, who will be visiting Tbilisi on Friday, "can help by offering the increasingly authoritarian Georgian President Mikhail Saakashvili a little friendly advice."