Russia and Georgia should follow path of reconciliation;
Dialogue should replace rhetoric of confrontation;
Military build-up in Abkhazia, S.Ossetia contrary to ceasefire agreement;
Calls on Russia to reciprocate Tbilisi's non-use of force declaration;
Soviet Union is past and can't be replaced with spheres of influence;
France considers Russia as its strategic partner;
Georgia is free to choose its allies;
'In Tbilisi, I feel like I am in Europe'
Georgia free to express its EU aspirations and to one day join it.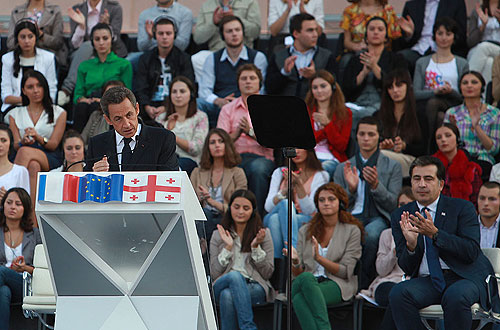 President Sarkozy and President Saakashvili on the Freedom Square, October 7. Photo: Guram Muradov/Civil.ge
French President, Nicolas Sarkozy, received ovations from tens of thousands of people, after saying in his outdoor speech in Tbilisi that three years after helping to stop the war he was now happy to address the independent, European nation, which has the right to choose its allies.
In his 16-minute speech on the Georgian capital city's main Freedom Square, decorated with huge French, Georgian and EU flags, the French President, who mediated a ceasefire agreement between Georgia and Russia in August, 2008, said that he continued monitoring how that ceasefire agreement was being implemented by the parties.
During his two and a half hour stay in Tbilisi – the last stop on his trip to the South Caucasus states – Sarkozy also held talks with Georgian counterpart, Mikheil Saakashvili, before heading back to Paris at 7:30pm local time.
Sarkozy told the thousands gathered on the Freedom Square, that "contrary to any strategic logic" and in violation of the six point ceasefire agreement, not only Russian military troops were remaining "at your doorstep, beyond the dividing line", but further military build-up was taking place.
Recalling an experience of France and Germany, when after the World War II, despite "deeply rooted memories of war" the two countries chose the path of reconciliation, Sarkozy called on Georgia and Russia "to also firmly follow the same path."
He said Georgia had demonstrated its path when President Saakashvili had solemnly pledged to never again use force for restoring Georgia's territorial integrity.
"Others who have signed the August 12 and September 8, 2008 agreements should also feel responsible to undertake the same commitment. It should be a natural step, because it is what the international law requires."
He said that France considers Russia as "a friend and a strategic partner". "Partner and a friend – that's what Russia should be for Georgia," Sarkozy said, adding that it was Moscow where most of the Georgians, after Tbilisi, lived.
"For the purpose of restoring the confidence, dialogue should prevail over the rhetoric of confrontation," Sarkozy said.
"In order to restore the confidence, attempts of threats, blackmail and destabilization should end. In order to restore the confidence, each should deem the Soviet Union as a past and that it can not be replaced with policy of spheres of influence. Everyone should recognize that Georgia, like others, has the right to determine its own path and to freely choose its friends and allies," the French President said.
He said that since the Rose Revolution Georgia achieved a lot through its successful reforms, but challenges remained including in economy and further democratic reforms, especially ahead of the parliamentary elections next year.
Sarkozy said that this path of reforms and openness should convince the population of Abkhazia and South Ossetia "of the fact that their future is beside the Georgian compatriots in an open country and not in isolated and enslaved pseudo states."
The same path of reforms, he said, was the best way to convince the European Union that Georgia is European country. He also said that Georgia "must be free to express its aspiration to move towards the European Union and to one day join it".
"As far as I am concerned, when I am in Tbilisi, I feel like I am in Europe," Sarkozy said.
Georgian officials welcomed the French President's statements with some of them even saying that contrary to their expectations, Sarkozy put quite bluntly all those key messages, which Tbilisi wanted to hear from him.
"It was a very strong and important speech," Giorgi Baramidze, the Georgian state minister for Euro-Atlantic integration issues, said, stressing that mentioning Georgia in the context of European state, call for Russia not to regard its neighborhood as its sphere of influence and the French President's reiteration that the six-point ceasefire remains to be fulfilled were all important points for Tbilisi.