Names 'pseudo-opposition parties' with which he won't cooperate;
Says possible to cooperate with Republican and Alasania's OGFD parties;
Says Merabishvili is 'good manager' with 'many positive traits';
Tells Merabishvili: 'Advise Saakashvili to resign, but resign yourself if he stays in power'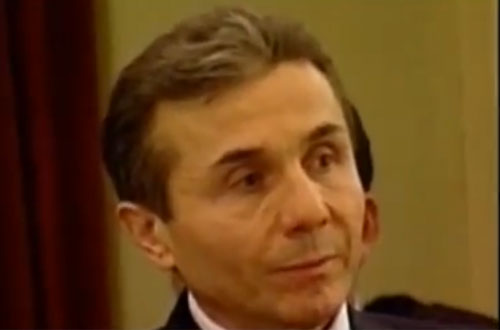 A screengrab from archive footage of Bidzina Ivanishvili.
Bidzina Ivanishvili, a billionaire philanthropist, said in his new written statement released on October 12, that he would "definitely come into power" and called on Interior Minister Vano Merabishvili, whom he described as a person "with many positive traits" to resign if President Saakashvili refuses to step down.
In the statement he also named two political parties with whom he thought it was possible to cooperate and listed seven, as he put it, "pseudo opposition" parties ruling out partnership with them.
"As far as I have decided to go into politics, I will definitely come into power… I always keep my promise; I always keep my word and commitment. I have promised to the Georgian people that I will come into power that means that I will definitely do that," Ivanishvili said.
"I extend a hand of cooperation to everyone, including to my opponents. We should all get united, but before unification everything and everyone should be called with its real name, we should face each other not with a mask, but with our real faces," he said.
'Pseudo Opposition'
Ivanishvili, however, said that he would not cooperate with "pseudo-opposition, which is in a covert deal with the authorities and acts upon their instructions."
He named among these parties MP Giorgi Targamadze's Christian-Democratic Movement (CDM), which is a leading party in a small parliamentary minority group; Labor Party, led by Shalva Natelashvili; New Rights Party, led by Davit Gamkrelidze; National Democratic Party (NDP), a small party which has one member in the parliament; the Georgian Party; MP Gia Tortladze's Democratic Party of Georgia and MP Paata Davitaia's party European Democrats (formerly On Our Own).
He said that CDM leader Giorgi Targamadze's political career "has numerous suspicious moments, ranging from his cooperation with Aslan Abashidze", an ousted leader of the Adjara Autonomous Republic, "to betrayal of Badri Patarkatsishvili", a late tycoon in whose television station, Imedi TV, Targamadze was an anchor and a key figure before it was closed down by the authorities.
"In exchange of that betrayal, the authorities helped Targamadze to establish his political party, financed it and endorsed [the party members] in the Parliament through falsifications [in the 2008 parliamentary elections]," Ivanishvili said.
He also named leaders of other parties, which he thinks are "pseudo-opposition", saying that they were acting "upon the authorities' orders." But while naming a leader of the Georgian Party, instead of mentioning the party's chairman, ex-public defender Sozar Subari, Ivanishvili named Erosi Kitsmarishvili, a political secretary of the Georgian Party, who is a former close ally of President Saakashvili and ex-ambassador to Russia. A company established by Kitsmarishvili now has management rights over the Tbilisi-based Maestro TV stations.
In the statement Ivanishvili mentioned Subari separately, praising him for his activities when he was the public defender. He also said that it was regrettable to see him in the Georgian Party and added: "I will only welcome if Sozar Subari will be willing to join our political party."
He also said that he was refusing to cooperate with the leaders of "pseudo-opposition" parties, but not with "separate, honest members" of those parties.
Republican Party and OGFD
Ivanishvili named two opposition parties – the Republican Party, led by Davit Usupashvili and Our Georgia-Free Democrats, led by Irakli Alasania – with whom he said was ready to cooperate. While praising the Republican Party, Ivanishvili, however, also criticized "aggressive comments" made by some of the leaders of the party in address of Ivanishvili.
He also said that it was not a full list of political parties he was willing to cooperate and would name others at later stage.
Merabishvili – 'A Good Manager'
The statement has a significant portion, which addresses personally to a powerful interior minister Vano Merabishvili. Ivanishvili calls him "a good manager with many positive traits."
"As a result of hard work Merabishvili created a well-organized system – the Interior Ministry. If we remove the punitive functions which the patrol police and other power-wielding structures have, they can play a very useful role for the society."
"Merabishvili was very often surprising me with his serious competence in the economic matters; although I have also very often surprised him while resolving issues which are far from my immediate profession," Ivanishvili said.
He claimed that about 18 months before the 2008 August war he was approached by President Saakashvili with a request to try to convince Giga Bokeria, at the time a lawmaker and now secretary of National Security Council, that trying to regain control over breakaway South Ossetia by force was not a good idea.
"Bokeria was insistently demanding moving Georgian troops into Samachablo [breakaway South Ossetia], hoping that Russians would have stranded aside letting the Georgian troops in Tskhinvali without fight… In forty minutes I managed to convince Bokeria that what he was intending to do was a pure provocation and adventure," Ivanishvili said in the statement, adding that Merabishvili was amazed with his ability to convince Bokeria.
Ivanishvili also claims that one year after the Rose Revolution, President Saakashvili met him and told that he was intending to sack Merabishvili. "At the time I did my best to make him change his mind. I convince him that you are a devoted man, clever and watchful manager. Saakashvili believed me at the time and has never regretted about it… I have never given neither him nor you a bad advice," Ivanishvili said.
"Now I want to advise you one more thing – advise Saakashvili to timely resign," Ivanishvili says. "Saakashvili is tired, exhausted and leading the country and himself too into the abyss; you and your mentor [Justice Minister Zurab] Adeishvili do a disservice to him by keeping him in power… Advise Saakashvili to resign. That's the only chance for him to live in his own country. If Saakashvili does not take heed of your advice, then you resign, because that would be the best option for you – by doing so you will remain respected and dignified person in Georgia."
Again addressing personally to Merabishvili, Ivanishvili also said he knew that "the entire governing team is shocked" because of learning about his decision to go into politics from his written statement and not earlier. Ivanishvili claimed that it was because he was convincing "an agent recruited by you in my organization" that he had no intention to go into politics. Ivanishvili identified "agent" as president of his Cartu Bank, Giga Chrdileli.

In his statement Ivanishvili said that he had "no aggressive attitude" towards Saakashvili's political allies and would even cooperate with some of them "if they change their political convictions."

"I am going into politics not for defeating anyone and not for revenging, but for victory of each and every citizen," Ivanishvili said.