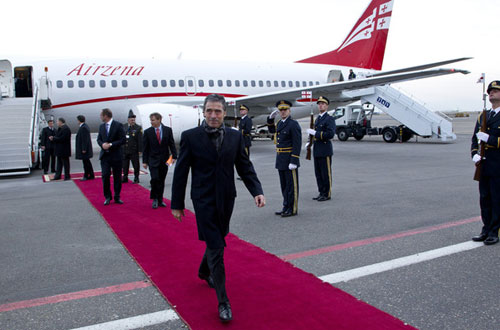 NATO Secretary General Anders Fogh Rasmussen, Tbilisi airport, November 9. Photo: NATO
Ambassadors from NATO member-states from the Alliance's senior decision-making body, North Atlantic Council (NAC), arrived in Tbilisi on Wednesday for a two-day visit to Georgia.
NATO Secretary General, Anders Fogh Rasmussen, who is accompanying NAC, said last week that the visit "is a very significant event that stresses the very special partnership" between Georgia and the Alliance.
The Secretary General and the NATO delegation were welcomed in the Tbilisi airport by Georgian State Minister for Euro-Atlantic Integration Issues Giorgi Baramidze and Deputy Foreign Minister Tornike Gordadze.
It is NAC's second visit to Georgia; the first one took place in September, 2008, when NATO-Georgia Commission was launched.
The commission remains a main mechanism through which NATO-Georgia cooperation is supervised, including implementation of reform targets set in Georgia's Annual National Programme (ANP), which is reviewed annually by the Alliance.
The Secretary General will chair a meeting of the NATO-Georgia Commission in Tbilisi on November 9 with the participation of Georgian Prime Minister Nika Gilauri. Gilauri and Rasmussen will hold a bilateral meeting before the commission session.
On the second day of the visit NATO Secretary General will meet with Parliamentary Chairman Davit Bakradze, who will then also hold a separate meeting with ambassadors from the North Atlantic Council with the participation of lawmakers from the parliamentary majority and minority groups.
Also on November 10, while the NATO Secretary General will be delivering speech at the Tbilisi State University, ambassadors from NAC in three separate groups will be holding simultaneous meetings with representatives of opposition, civil society and media.
Before departure to Batumi the delegation will meet with Foreign Minister Grigol Vashadze and the NATO Secretary General will welcome at the Vaziani military base outside Tbilisi Georgian soldiers who have served in Afghanistan.
In Batumi President Saakashvili will hold a bilateral meeting with the NATO Secretary General and also hold a separate meeting with the ambassadors from NAC. The delegation will leave Batumi for Brussels on Thursday evening.