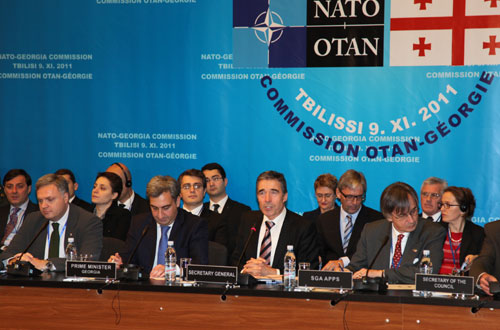 NATO-Georgia Commission in Tbilisi, November 9. Photo: Guram Muradov/Civil.ge
Further reforms will be "Georgia's ticket to membership in NATO" and the Alliance is here to help, Anders Fogh Rasmussen, the NATO Secretary General, said at the opening of NATO-Georgia Commission in Tbilisi late on Wednesday afternoon.
"Since our Bucharest summit Georgia has come a lot closer to NATO, but there [is] still work to be done in number of areas," he said in his opening remarks and reiterated the decision of NATO's 2008 Bucharest summit, that Georgia will one day join the Alliance, remains firm.
He also said that the NATO-Georgia Commission meeting would "focus on broad domestic reforms, which Georgia has made in democratic development, in freedom of expression, in fighting corruption and in promoting economic growth."
"We will also discuss crucial area of defense reform – the need for Georgia to ensure that it's military is properly sized, structured and funded and relevant to the security challenges of today and tomorrow, rather than those of the past," Rasmussen said.
He said that partnership between Georgia and NATO was "solid" and expressed gratitude for Georgia's "impressive contribution" to the NATO-led Afghan operations.
A July, 2011 report from NATO's web TV channel about Georgian troops serving in Musa Qala in north of the Helmand province.
Georgia has about 950 troops in Afghanistan, mostly stationed in Helmand. Georgia has also expressed readiness to further increase its presence in Afghanistan next year by sending one more battalion, which will make Georgia the largest non-NATO contributor to ISAF.
"We are very proud that Georgian soldiers are fighting shoulder to shoulder with NATO allies in Afghanistan," Georgian PM Nika Gilauri said in his opening remarks at the NATO-Georgia Commission.
He said that Georgia's NATO aspiration was "consensus of the whole society and the consensus of the whole political spectrum."
PM Gilauri also said that since 2008 Bucharest summit, "much progress has been made and many reforms have been adopted in Georgia." He also said Georgia had turned into "exporter of our reforms."
"I hope that these reforms and these successes will be acknowledged… at the nearest NATO summit [in Chicago in May]," he said.
"Of course not everything is perfect, of course not all the reforms have been finalized yet; there is still high rate of unemployment, there are still problems in economy, but right now in terms of economy Georgia… is one of the healthiest countries in the region," PM Gilauri said.