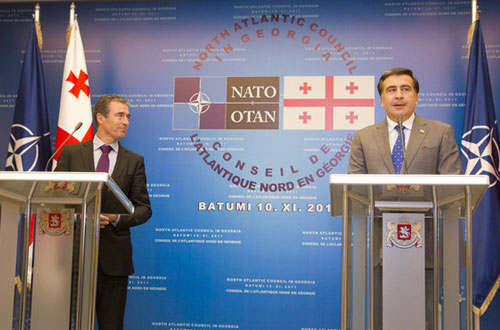 NATO Secretary General Anders Fogh Rasmussen and President Saakashvili at a news conference after meeting in Batumi, November 10. Photo: NATO.
Georgia will be addressed at the summit of NATO leaders in Chicago in spring, but how it will be done has yet to be defined, NATO Secretary General, Anders Fogh Rasmussen, said at a joint news conference with President Saakashvili in Batumi on November 10.
"We have discussed the upcoming NATO summit in Chicago," he said. "We have not finalized preparations, there is still six months to go, many things can happen; we have not finalized the programme so no decision has been made.
"As usual NATO allies will address Georgia at the [Chicago] summit; the question is how and we have discussed this today; we will continue our dialogue in the run up to the summit in Chicago. I hope to see language, texts from the Chicago summit that reflects the progress we have seen in reforms in Georgia, the progress we have seen in our relationship since we last met in Lisbon year ago," Rasmussen said.
The Georgian leadership hopes NATO summit in Chicago in May, 2012 will mark a significant step forward for Georgia in its drive to join the alliance.
During the press conference Saakashvili jokingly complained before the NATO Secretary General that he could have brought at least a NATO jacket if not an umbrella. Showing a tie he was wearing, Saakashvili told Rasmussen that previous NATO Secretary General, Jaap de Hoop Scheffer, brought that NATO tie to him when he visited Georgia.
"I was hoping you would bring me at least a NATO jacket so that we would not stay out in the cold without NATO jacket; we are not [yet] asking for a NATO umbrella though, but jacket would do this time," Saakashvili told Rasmussen.
Saakashvili thanked the NATO Secretary General for the support and said: "We've heard NATO's praise for our reforms, but we also know that we have to do homework and proceed with further changes."

With the press conference the NATO Secretary General and ambassadors from the member states in the North Atlantic Council concluded their two-day visit during which the delegation reaffirmed the Alliance's support to Georgia's territorial integrity, open-door policy, reiterated that no third country had a veto over the NATO enlargement, praised Georgia's reforms and saying that the country was now closer to the Alliance then three years ago, but noting that work still remains to be done, particularly emphasizing on the importance of the electoral cycle over the next two years in Georgia.
After spending the first day of the visit in Tbilisi, the delegation met with President Saakashvili in the Black Sea town of Batumi on November 10.
During his opening remarks at the meeting with the NATO ambassadors, Saakashvili said that Georgia's path to join NATO was not an easy one, but no one would ever be able to derail Georgia from this road.
"I want to say that during our multi-century history we have never been so close to our European home, Euro-Atlantic space, our century-old dream, Georgian people's century-old aspiration," he said.
"Few years ago it would be hard to speak or even dream about such a level of cooperation and such closeness between Georgia and NATO."

"Developments taking place in recent years, when right after August 2008 [war] a session of the North Atlantic Council was held in Tbilisi in September in huge symbolic demonstration of Euro-Atlantic solidarity towards the Georgian nation, as well as this visit which is the second one [by NAC] – and today I received an invitation from the Secretary General to visit Brussels in the near future and to attend the session of the North Atlantic Council again. Shortly speaking the relationship of such intensity is unprecedented and of course, we are very glad about it," Saakashvili said.
"Integration into NATO as well as into the European Union is a fundamental choice of the Georgian nation," he said, recalling January 2008 referendum in which absolute majority voted for joining NATO.

He said that Georgia's NATO aspiration was a matter of broad consensus within the Georgian society.
"Of course, like in any democracy, there are some groups, parties in our country, who say that NATO does not matter for them or NATO is a very far perspective, but if you look carefully, you will see that these parties themselves do not have any perspectives at all," Saakashvili said.
"But among the key players there is a broad political consensus, which does not change either by ongoing political and economic factors or international fluctuations… This is a landmark not only for my government, but for the entire Georgian nation."
"As a result of eight years of radical transformation, we are now closer to the Alliance as never before," Saakashvili said.
"Today I proudly welcome you in the democratic, fast-developing state; I proudly welcome you in the state, which despite pressure, threats and occupation still managed to stand on its feet… as a reliable partner of the Alliance," Saakashvili said.
"We are proud of our soldiers, who exactly know what they are fighting for in Afghanistan. This is also a historical instinct of our nation that we are there."
"I hope that our reforms, our readiness to defend peace and stability, our efforts to undertake more than necessary has turned Georgia into one of the major partners of NATO. Of course, the journey is not yet over. I know that this is not an easy road, but no one will be able to reverse our advance; I repeat – no one will be able to reverse it," Saakashvili said.
In his opening remarks the NATO Secretary General said the visit to Georgia was a good opportunity to see the progress the country made and to also lay out further work that was still required "in areas such as electoral reform, strengthening of rule of law, deepening reforms regarding the judiciary and the media and greater involvement of the civil society."
"You have already achieved a great deal and we now look forward to you completing the necessary reforms because every day of progress will bring Georgia closer to NATO," Rasmussen said.