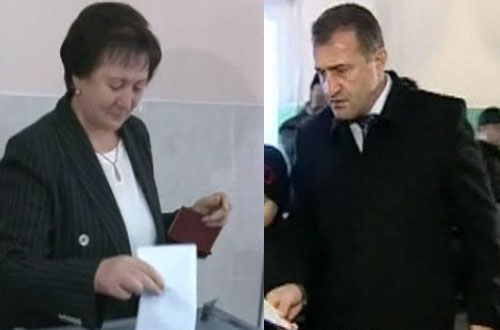 A compilation from TV grabs showing Alla Jioyeva (left) and Anatoly Bibilov (right) during casting a ballot in the Sunday's election.
Presidential election in breakaway South Ossetia went into runoff as none of the eleven candidates garnered enough votes to win Sunday's first round outright.
Anatoly Bibilov, the breakaway region's minister for emergency situations, will face ex-education minister Alla Jioyeva, in the second round planned for November 27, according to the Central Election Commission (CEC).
The first early results, released six hours after the polling stations were closed, showed that Jioyeva was narrowly leading; but on Monday morning CEC released updated results giving Bibilov a narrow lead with 25.44%, followed by Jioyeva with 25.37%.
Figures stand in sharp contrast to those of exit polls released shortly after the polling stations were closed giving Bibilov a big lead; those results, however, also indicated that the runoff was looming.
In a simultaneous referendum in which voters were asked if they want to make Russian the official language together with the Ossetian, 83.9% voted 'yes', according to the breakaway region's CEC.
Although the runoff was expected by many observers in Tskhinvali, a tight race between Bibilov and Jioyeva was not among the most likely scenarios discussed ahead of the polls. Bibilov, who is believed to be the Kremlin's favorite, was regarded as a frontrunner.
Bibilov said on Monday that he was confident in winning the second round; he also said, that he was now counting on supporters of those candidates, who have failed to make it in the second round and said that he was ready for a coalition with those candidates.
Jioyeva also said on Monday that she was confident in winning the runoff. "We have won even without having administrative resources, without huge financial investment, which other candidates were doing, and without support of certain groups within the Russian political elite," Jioyeva said.
Born in Tskhinvali Anatoly Bibilov, 41, graduated Russia's Ryazan High Command Airborne School in 1992. In 1994-1996 he was commander of the breakaway region's MoD special task force. Before starting service in the Russian peacekeeping battalion in S.Ossetia in 1998, Bibilov lived and worked in Kiev for two years as a commercial director of unspecified enterprise, according to his official biography.
Before the August, 2008 war he was deputy commander of North Ossetian peacekeeping battalion in the conflict zone and in November, 2008 he was appointed as the minister of emergency situations of the breakaway region.
Alla Jioyeva is regarded to be an opposition candidate, whose nomination was supported by Jambolat Tedeev, Russian free-style-wrestling team trainer and a fierce critic of outgoing South Ossetian leader Eduard Kokoity. Tedeev himself wanted to run in the election, but was barred on the grounds of failing to meet 10-year residency requirement. Jioyeva said during the pre-election campaign that she decided to run after all "the heavyweight" opposition candidates were barred from running.
Born in Tskhinvali, Jioyeva, 62, has been a teacher for over two decades in a local school in Tskhinvali; she was a principal of the same school for couple of years before being appointed as the breakaway region's education minister in 2002. She was sacked in 2008 and charged with misuse of power which eventually resulted into a 2-year suspended sentence in 2010. Jioyeva has dismissed charges against her as politically motivated.
'Pseudo-Democratic Games'
Georgia denounces elections in the breakaway region as illegitimate. Georgian Deputy Foreign Minister, Nino Kalandadze, said the Sunday's election was "a pseudo-democratic game by the puppet regime", which would result in "replacement of one puppet regime with another". She also said that these so called elections "will have no meaning for us and for the international community."
Meanwhile, a group of thirty Georgian non-governmental organizations released on Monday a joint statement condemning polls in the breakaway region.
"We concur that no legitimacy can be bestowed upon processes taking place in Tskhinvali Region/South Ossetia, including elections," the statement reads. "Tens of thousands of people – 30% of South Ossetia's total original population who have been ethnically cleansed are not allowed to return to their homes and participate in socio-economic or political life of the region."
The Coalition for Justice, one of the undersigned NGOs focusing on the IDP and conflict-related issues, has recently compiled satellite images of twelve Georgian villages in the breakaway region before and after the August war showing the scale of destruction.
"The war obliterated entire villages, whereby deliberate destruction and burning of homes was used as tool of ethnic cleansing," the Coalition for Justice said. "Satellite images… tell the story of a concerted effort to prevent the return of the civilian Georgian population to their homes."
Elections in the breakaway region are denounced as illegitimate by the international community, except of Russia and few other countries, which have recognized the region.
NATO Secretary General, Anders Fogh Rasmussen, said when he visited Georgia last week, that the Alliance's reaction to the elections in South Ossetia "will be exactly the same as to the elections in Abkhazia" in August, 2011.
"We pursue a clear non-recognition policy; we have not recognized and we will not recognize Abkhazia and South Ossetia as independent states… We insist on full respect for Georgia's sovereignty and territorial integrity," Rasmussen said on November 9 in Tbilisi.