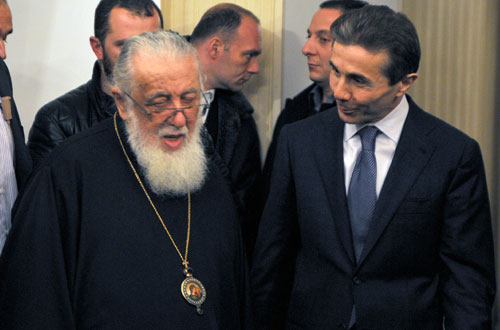 Patriarch of the Georgian Orthodox Church Ilia II and Bidzina Ivanishvili after the meeting in the Patriarchate on November 15. Photo: InterPressNews
Billionaire-turned-politician, Bidzina Ivanishvili, met with Patriarch of the Georgian Orthodox Church Ilia II in the Patriarchate on Tuesday evening.
After the meeting the Patriarch and Ivanishvili appeared jointly before the press to make brief statements.
"We are glad that Bidzina Ivanishvili came to the Patriarchate. We talked about many issues, especially about Georgia's future and present and I believe everything will be alright," Patriarch Ilia II said.
Later Ivanishvili's press office released via YouTube five-minute footage from the meeting in which Ilia II is seen telling Ivanishvili: "People are watching you with hope, some of them; and some are nervous."

Before that Ivanishvili told the Patriarch: "Georgia has had difficult moments in its history and like in the past, I think, now too we will be able [to overcome difficulties] with your help."
In his sermon on November 13, the Georgian Church leader called on President Saakashvili to restore Ivanishvili's Georgian citizenship, which he has lost following his announcement about going into politics last month.
"It was one of the happy days in my life. I have met for several times with His Holiness previously. It was a very interesting meeting; I received many wise advices from His Holiness, which I will take into consideration and which will help me in my future endeavors," Ivanishvili said.

In an interview with the Georgian daily, Kviris Palitra, on November 5 Ivanishvili said that he was intending to meet with the Patriarch.
"I think my [request] for a meeting will be accepted. I have much to talk with the Catholicos-Patriarch. I want to receive an advice from this wise person. Apart of being the spiritual father of [Georgia's] Orthodox [Christian] population, he is also a wise person. I have met with him for several times previously and recall those moments and his advices with pleasure," Ivanishvili said in the newspaper interview.