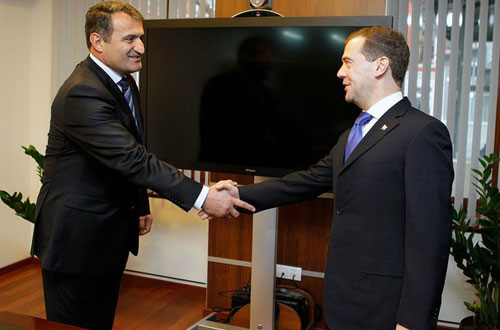 Anatoly Bibilov (left) meeting with Dmitry Medvedev (right) in Vladikavkaz, November 21. Photo: Kremlin
Russia's President Dmitri President met in Vladikavkaz on Monday with Anatoly Bibilov, a candidate running for breakaway South Ossetia's leadership in the second round of election set for November 27.
"During the meeting Dmitri Medvedev noted that Russia was interested in South Ossetia having efficient leadership," the Kremlin said in a statement. "The head of the state has also stressed, that Russia would continue providing security to [South Ossetia]."
Bibilov, the breakaway region's emergency situations minister, who is openly supported by the Kremlin, garnered about 25% of votes in the narrow race on November 13 and will face in the runoff the breakaway region's ex-education minister Alla Jioyeva, who also had up to 25% of votes in the first round.
Also on November 21, Bibilov received a major boost in his campaign in Tskhinvali too after head of the local bread factory and a former candidate Vadim Tskhovrebov announced that he would support Bibilov in the runoff. Tskhovrebov was third during the first round of election, garnering 9.9% of votes. Tskhovrebov's November 21 announcement marked a U-turn in his position, because up to now he has been claiming that would support none of the candidates.