No funding from legal entities;
Caps on party membership fees;
Caps on bank credits to parties;
State audit agency in charge of monitoring;
Measures to make funding sources more transparent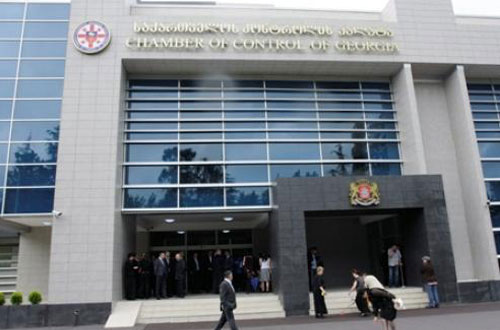 Headquarters of state audit agency, Chamber of Control, in Kutaisi. The agency will be in charge of monitoring party funding, instead of Central Election Commission, according to draft of new regulations developed by the Ministry of Justice. Photo: Chamber of Control's
website
.
The Ministry of Justice has developed a draft of legislative amendment tightening regulations for funding of political parties.
One of the provisions of the draft amendment to the law on political parties, which has yet to be formally initiated, envisages banning legal entities, including business organizations, to donate funds to political parties.
This proposed amendment to the law on political parties, however, does not apply, to a party's electoral campaign fund, which is regulated by separate provisions from the electoral code. If the amendment is maintained in its current form it will mean that a party's account and the same party's election campaign fund will be treated separately, wherein a legal entity, or businesses will be allowed to donate to a party's electoral fund, but will have no right to provide finances to a party's regular account during a non-electoral period. According to the electoral code a party can open its electoral fund account no later than five days after being registered for running in the elections (registration procedures should be over no later than 37 days before the polling day).
In September the ruling party tabled draft of new electoral code, developed based on an electoral system reform deal reached with some of the opposition parties three months earlier. The draft, which has already been formally initiated, envisages increasing maximum amount of donation from a single legal entity to a party's electoral fund from current GEL 100,000 to GEL 200,000.
According to ruling party lawmakers these two different approaches is not likely to be maintained and both electoral campaign funds and party's regular funding scheme during the non-electoral period will probably be regulated by a common, unified rule. Ruling party lawmaker, Chiora Taktakishvili, told Civil.ge on November 22, that final decision about which rule will particularly apply and what will be its eventual form will only be defined as a result of consultations and also as a result of recommendations from the Venice Commission, the Council of Europe's advisory body for legal affairs. (for more on what the draft of new electoral code says about campaign funds visit this link)
The Justice Ministry's draft law on party funding also envisages doubling donation cap that a single individual person can provide to a party from current GEL 30,000 to GEL 60,000 (a similar provision is also envisaged in the proposed draft of electoral code in respect of a party's electoral campaign fund). According to the draft of amendment a single individual can donate to several parties, but total amount of these donations should not exceed GEL 60,000 annually.
According to the draft a political party will have no right to take a loan from individual persons or legal entities, other than commercial banks. The proposal also imposes restrictions on commercial banks, banning them to lend political parties a loan more than GEL 100,000. A single commercial bank can lend money to several political parties, but total amount of these loans should not exceed GEL 100,000 annually (USD 60,000).
The proposal also offers introducing a cap of GEL 1,200 for party membership fee annually from each member of the party.
Total amount of a party's overall annual funding – received from all sources, whether from donations, membership fees, or state funding – should not exceed 0.2% of Georgia's GDP. Next year forecasted nominal GDP is GEL 26.5 billion, which means that if the proposal is approved a party's maximum annual funding should not be more than GEL 53 million – the ruling National Movement party, which is the richest political party in Georgia, reported GEL 14.1 million in donations for last year's local elections.
One of the new provisions in the law, if approved, will ban a party and its representative or a third person affiliated with a party to donate money, gifts and "other material benefit", as well as to sell goods under discount price or to procure goods for higher than market price. It will also ban parties to promise money, securities, or other material benefits to the Georgian citizens. Similar restrictions will also apply, according to the proposal, to legal entities, which are "related, directly or indirectly, to a political party or are otherwise under the control of a political party." The draft defines such potential linkage when a legal entity's "expenses directly or indirectly are related to the activities or goals of a political party."
The draft proposes to put state audit agency, Chamber of Control, in charge of monitoring of party funding; currently this function is under the Central Election Commission (CEC).
The Chamber of Control will have the right, according to the draft, to audit parties' financial declarations, to monitor a political party's electoral campaign funds and will have an access to all sorts of financial information of the party; the state audit agency will have the right to request such information from any involved legal entity, including from commercial banks.
In an attempt to increase transparency of party funding, according to the draft, the state audit agency will have to post on its website financial declarations of political parties, which should also include financial information of "legal entities directly or indirectly linked" with a political party.
According to the Justice Ministry, which has developed the draft, the document aims at "preventing political corruption" and securing "high level of transparency and accountability" in the field of party funding; it says that the draft was developed taking into account recommendations by the Council of Europe's Group of States Against Corruption (GRECO) and recommendations by Council of Europe's committee of ministers.
The authorities' intention to have new regulations first emerged late in October when the Justice Ministry's officials voiced the idea during a meeting with representatives from the Tbilisi-based watchdog groups. The written draft was tabled during a similar meeting of anti-corruption inter-agency group on November 18.
Some observers have suggested that the idea of tightening party funding rules might be related to coming into politics of billionaire philanthropist Bidzina Ivanishvili, whose wealth is estimated to be USD 5.5 billion, almost half of Georgia's GDP. Ivanishvili, who runs several charitable organizations in Georgia, also owns bank in Georgia, Cartu Bank – the sixth largest bank in the country by assets.
"Some of them [proposals on new party funding regulations] are positive, although we believe that addressing the shortcomings of the electoral system and restricting the use of administrative resources are the most urgent steps towards the improvement of the electoral environment. Otherwise, imposing restrictions on party financing alone will not produce any essential improvement of the electoral environment," the Transparency International-Georgia, Georgian Young Lawyers Association and International Society for Fair Elections and Democracy said in their joint statement on October 25.