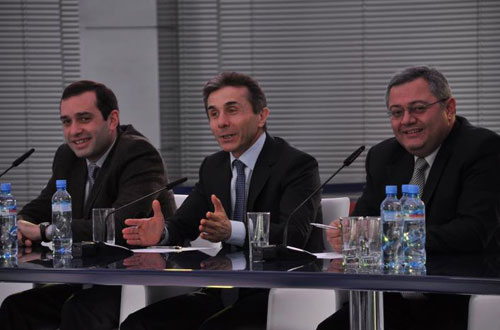 From left to right: Irakli Alasania, leader of OGFD; Bidzina Ivanishvili; Davit Usupashvili, leader of the Republican Party, November 25. Photo: Ivanishvili's press office.
Billionaire-turned-politician, Bidzina Ivanishvili, met on November 25 with the leadership of Our Georgia-Free Democrats (OGFD) and Republicans, the two opposition parties, which have been named by Ivanishvili as his partners for the parliamentary elections next year.
The meeting, held in the billionaire philanthropist's residence, involved dozens of members from the governing bodies of the two parties and their leaders Irakli Alasania of OGFD and Davit Usupashvili of the Republican Party.
Republican Party and OGFD officials said after the meeting that deepening of cooperation, including through setting up of joint working groups to address broad range of issues from politics and security to agriculture was agreed.
Ivanishvili has indicated recently that his coalition may further broaden with inclusion of other parties.