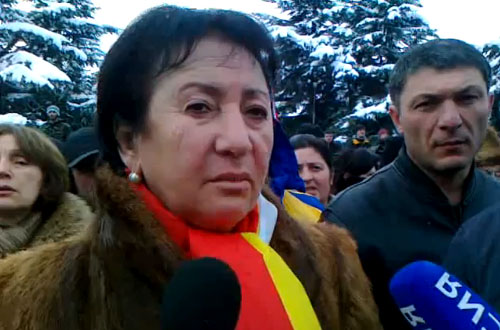 A screengrab from
YouTube video
showing Alla Jioyeva speaking with journalists in Tskhinvali on December 1.
An opposition candidate Alla Jioyeva, whose victory in the November 27 presidential runoff was annulled by the breakaway region's Supreme Court, has set an ultimatum to the outgoing South Ossetian leader Eduard Kokoity to recognize her as elected leader of the breakaway region before 6pm local time on Thursday.
In a written letter submitted to the Kokoity's office, Jioyeva says that Kokoity should overturn the decision of the Supreme Court annulling the runoff results, as well as the decision of the Parliament setting March 25, 2012 as the date of repeat election. She has also demanded from Kokoity to publish a final vote tally of the November 27 runoff's results giving her victory over Kremlin-backed candidate Anatoly Bibilov.
"In case the above mentioned points are not fulfilled before 6pm on December 1, 2011, the President [Eduard Kokoity], Acting Chairman of the Parliament [Zurab Kokoev] and Chairman of the Supreme Court [Atsamaz Bichenov] will be responsible for the further developments," Jioyeva's letter reads.
Meanwhile, supporters of Jioyeva are gathering on Tskhinvali's main square, according to the reports from the breakaway region's capital.
According to a reporter blogging live from Tskhinvali for Russian news website, Kavkazsky Uzel, the security forces blocked the access roads towards the government building with trucks. He is reporting that on Thursday troops from the interior ministry's special task force are in larger numbers at the government building then it was on November 30.