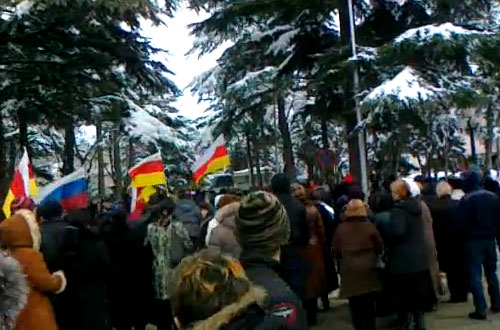 A screengrab from
YouTube video
showing opposition supporters at a protest rally in Tskhinvali on December 1, holding flags of Russia and the breakaway region.
Moscow has snubbed South Ossetian opposition's calls for securing implementation of the post-election deal with the breakaway region's authorities, saying it would be "legally and morally" wrong for Russia "to exert pressure" on lawmakers in Tskhinvali.
Alla Jioyeva, an opposition leader whose victory in the November 27 presidential run off over Kremlin-backed candidate was annulled by the supreme court, called on Russia to intervene and secure implementation of the December 9 agreement with Kokoity which was designed to end post-election crisis. Russia acted as a guarantor of the deal, which was brokered by the Kremlin official who was in Tskhinvali since November 30 negotiating with the opposition representatives.
As part of the deal Kokoity, who was intending to stay as the leader of the region till repeat presidential election in March, resigned and also asked the Parliament to sack two of his key allies – chief prosecutor and chairman of the supreme court; in return Jioyeva suspended two-week long street protest rallies of her supporters and agreed on holding repeat elections in March in which she will be eligible to run, according to the agreement. But the breakaway region's Parliament, dominated by Kokoity's ruling Unity party, voted down on December 14 resignation of chief prosecutor and supreme court chair.
After the Parliament's refusal to sack Kokoity's allies, Jioyeva called on Russia, as a guarantor of the deal, to intervene.
"We think, that main goal of the agreement has been achieved. Everything has been done in order to resolve difficult socio-political situation, which emerged after the presidential elections in South Ossetia in November. It is difficult to understand those, who are again trying to exacerbate situation in the republic by misinterpreting for own benefit existing agreement," Russian news agencies reported, quoting a statement released by the Russian embassy in Tskhinvali on December 16.
The statement also says, that the Russian side indeed was a guarantor of the agreement and suggested that the agreement had been fulfilled, because Kokoity submitted to the legislative body a proposal on dismissal of chief prosecutor and chairman of supreme court. "And it has been done," the statement reads.
"Being an independent branch of the government, the Parliament of South Ossetia performs its duties based on freewill of MPs… We deem it inadmissible to exert pressure on the South Ossetian lawmakers with a purpose to adopt a decision in line with interests of any party," the Russian embassy said.
"It was only to be expected," Jioyeva said in a first reaction after reading the Russian embassy's statement, according to RFE/RL's Russian-language service, Ekho Kavkaza. Jioyeva, however, declined to further comment, citing that she did not want to be pushed into making "anti-Russian statements."
The opposition rallied in Tskhinvali for few hours on December 15 to protest against violation of the post-election deal. The opposition vowed to resume rallies later, but no details of their plan were reported. There were no reports of protest rally in Tskhinvali on Friday.