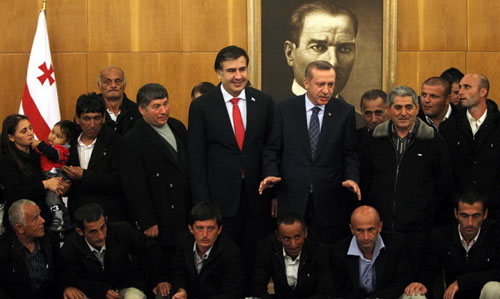 President Saakashvili and Turkish PM Recep Tayyip Erdogan seen together with sailors and some of their family members in Istanbul, January 13. Photo from the Turkish PM's website.
President Saakashvili praised Turkish Prime Minister, Recep Tayyip Erdogan, as "a great democratic leader", who had led Turkey, "an undoubtedly regional leader," through "revolutionary reforms."
He was speaking while making a statement for the press jointly with the Turkish PM after the two leaders welcomed a Georgian Airways' plane in Istanbul carrying from Kenya fifteen Georgian and three Turkish sailors, who were freed on January 8 after sixteen months in Somali pirate captivity.
Both the Georgian President and the Turkish PM said that the release of the sailors, whose ship was pirated in the Gulf of Aden off Somalia on September 8, 2010, was a result of joint efforts undertaken by Georgian and Turkish authorities.
"I know many world leaders, but I do not know any other leader who is taking such care of each individual citizen's fate; it might be easier when you have five million citizens as it is our [Georgia's] case, but when you have over 70 million citizens it is more difficult, but it is not so difficult for you personally [referring to the Turkish PM]," Saakashvili said.
"No small interests exist for you when a case concerns interests, life, property, freedom of a Turkish citizen and it is genuinely unique characteristic of a great democratic leader," he said.
Saakashvili said that PM Erdogan demonstrated this very characteristic while dealing with the case involving captive Turkish and Georgian sailors. "We have been jointly working on this issue," Saakashvili said.
"Turkey has become the state of huge importance, especially in recent years. Turkey is undoubtedly a regional leader, which creates processes, which leads these processes, which is the major guarantor of peace in Middle East and in our part of Europe. I think that many processes would have further complicated if not Turkey's very pro-active peace role in respect of last year's developments in the Arab world, as well as in respect of developments surrounding Iran and Syria and other developments. Turkey is definitely carrier of positive role in respect of all these processes," he said.
He also said that Turkey and Georgia planned to further boost already close ties, including through opening an additional border-crossing point on top of the two others already existing between the two countries.
"Turkey with its dynamic development is a strong example. Against the background of such crisis in Europe and against the background of difficult economic situation in Asia, Turkey is distinguished by welfare and a very fast development. This is a result of revolutionary reforms, which the Turkish leadership has undertaken despite of all the difficulties… We are closely following with admiration Turkey's reforms not only in the sphere of economy, but also in education, technologies. Turkey has become the producer of innovations," Saakashvili said, adding that the two countries also cooperate on the issue of restoration of historic cultural monuments.
"We have a difficult neighborhood and I think that [Georgian-Turkish] relations are exemplary… We have relations free from problems and this is first and foremost thanks to PM Erdogan," Saakashvili said.