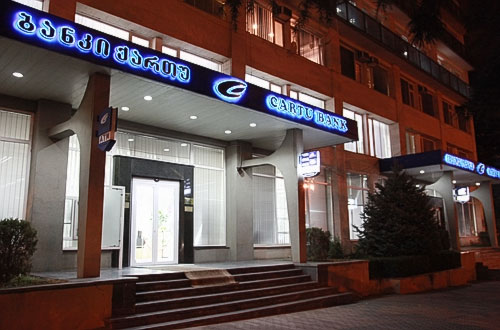 Cartu Bank, which is the sixth largest bank by assets in Georgia (there are 19 commercial banks in the country), is wholly owned by Bidzina Ivanishvili. Photo: Guram Muradov/Civil.ge.
Billionaire opposition politician Bidzina Ivanishvili's Cartu Bank is considering filing a lawsuit against ongoing inspection of the bank by the National Bank of Georgia (NBG), Nodar Javakhishvili, chairman of Cartu's supervisory board, said on Monday.
The central bank launched probe into Cartu Bank in October citing "suspicious" transaction involving large amount of cash, which was seized from Cartu by the police in an alleged money laundering investigation. The seized money in an amount of USD 2 million and EUR 1 million was returned back to the Cartu Bank on January 10, but the chief prosecutor's office said investigation into alleged money laundering was still ongoing. Another reason, cited by the central bank behind its decision to launch probe, was change of top management of Cartu Bank.
Javakhishvili, who was central bank chief in 1990s and was with opposition National Forum party before being picked up by Ivanishvili to lead his Tbilisi-based bank, said on January 16, that the NBG's presence in Cartu "has nothing to do with an inspection and it is groundless from the legal point of view."
"What they [representatives of central bank] are doing is controlling in advance Cartu Bank's ongoing operations," Javakhishvili said.
He said he did not expect the central bank to cease the probe till parliamentary elections later this year, unless "there is a pressure from international financial institutions or a court ruling."
NBG spokesperson told Civil.ge last week that the inspection in the Cartu Bank was ongoing, but could not specify how long it might last.