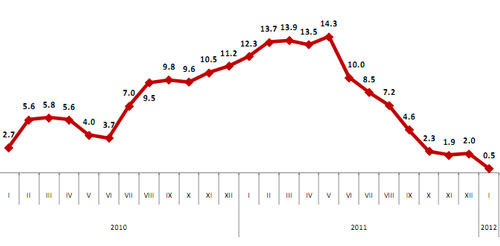 Annual inflation per month starting from Jan.2010 up to Jan.2012. Source: Geostat
Georgia's year-on-year rate of inflation fell from 2% in December to 0.5% in January, the state statistics office, Geostat, said on Friday.
Prices on food and non-alcoholic beverages decreased 1.6% and prices for communications services fell 7.7% y/y in January.
Transport prices increased 13.8% y/y in January and prices for household utilities (water, electricity, gas) went up 2.7%, according to Geostat.
The National Bank of Georgia, which decreased its key policy rate by 25 basis points to 6.5% last month, said inflation would remain low in the first half of the year and although it was expected to start increasing from summer, the annual rate would still remain below the target. The government's forecasted inflation rate for 2012 is set at 6%.