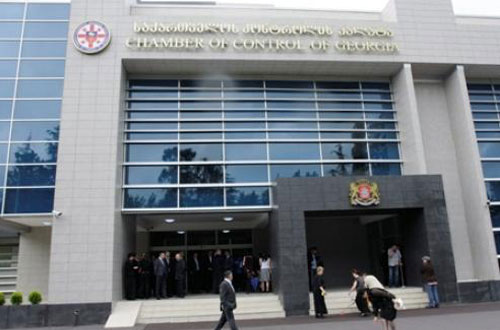 The state audit agency, Chamber of Control, is in charge of monitoring party funding. Photo: Chamber of Control's
website
.
The ruling party, United National Movement (UNM), received total of GEL 1.76 million in donations last year, according to a financial declaration submitted to the state audit agency under the funding disclosure requirements and posted on the agency's website late on February 8.
The ruling party received up to 95% of its total donations, or GEL 1.66 million, from nineteen companies.
At least ten of them are engineering and road construction companies, which at various times have been state contractors, receiving funds from the state budget some for road construction/rehabilitation projects and others for making assessment of environmental impact of road rehabilitation projects.
The financial declaration covers 2011, when corporate funding was allowed and when a political party had the right to receive maximum of GEL 100,000 from each company per year. Corporate donations are no longer legal according to the new party funding regulations, which went into force in late December, 2011.
The ruling party received total of GEL 95,848 from five individual citizens in 2011. According to the new funding regulations, a political party can receive no more than GEL 60,000, instead of previously existing GEL 30,000, from each individual citizen per year.
Financial papers submitted to the state audit agency show, that the ruling party, which is the largest and the wealthiest party in Georgia, has only six offices throughout the country.
Late last year UNM moved to a newly built headquarters in Tbilisi suburb after selling its old head office in the center of capital for GEL 2.27 million, according to its financial papers, which also show that the ruling party spent slightly over GEL 3 million for new building.
Five other offices of the ruling party are located in Batumi, Adjara Autonomous Republic; Khashuri in Shida Kartli region; Telavi and Sagarejo, both in eastern region of Kakheti and in Rustavi, a town in south of the capital city.
On top of corporate and individual donations, the ruling party also received funds from the state budget in an amount of GEL 1.95 million in 2011.

Annual funding from the state budget is envisaged for so called "qualified political parties" – those which have cleared, separately or together with others in an electoral bloc, a 4% threshold in parliamentary elections and a 3% threshold in local self-government elections. Total of GEL 5.9 million is currently envisaged for the funding of seventeen parties from the state budget annually based on their performance in recent elections. The ruling party receives more than any other from those seventeen parties, because it received more votes than others in the last parliamentary and local elections.
Financial declarations of political parties show, that state funding was the major source of income for most of them, except of the ruling party. Situation, however, changed for four parties – Our Georgia-Free Democrats (OGFD), Republican Party, Party of People and Conservative Party – in late 2011 after they became political partners of billionaire opposition politician Bidzina Ivanishvili. These four parties received total of GEL 4.1 million in corporate donations from several companies affiliated with Ivanishvili and footballer Kakhi Kaladze, also a supporter of Ivanishvili. No such corporate donations will be available this year as it is now banned by the new party funding regulations.
Financial papers of the political parties also show that most of them do not raise funds from party membership fees; even the ruling party had zero income from this source last year.
Exception in this regard is Christian-Democratic Movement (CDM), a leading party in small parliamentary minority group, which raised about GEL 13,700 through membership fees last year.
CDM has also received a corporate donation in an amount of GEL 25,000 from meat manufacturer and retailer Schirnhofer, according to the party's financial declaration.
CDM raised GEL 17,200 from individual citizens and had GEL 767,583 funding from the state budget.
New Rights Party had total of GEL 230,422 funding in 2011 of which GEL 48,288 the party received in donations from individuals and GEL 182,134 – from the state budget.