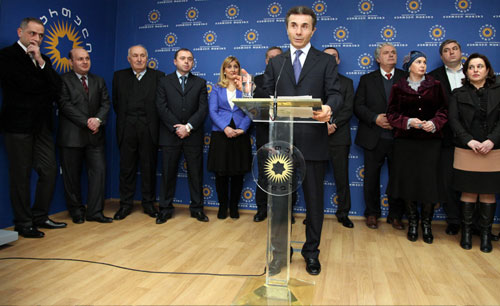 Bidzina Ivanishvili speaks at a presentation of an initiative group of his planned political party, February 15. Photo: InterPressNews
Billionaire opposition politician, Bidzina Ivanishvili, presented on February 15 a team, which is expected to become a core group of his planned political party.
The team, or "initiative group" of political party Georgian Dream-Democratic Georgia, includes eighteen people.
These are: Archil Kbilashvili, a lawyer who is also a member of Ivanishvili's legal team; Eliso Chapidze, a long-time journalist who was editor of daily Rezonansi before joining Ivanishvili's team; Kakhi Kaladze, a footballer who now plays for Italy's Serie A club Genoa and was a captain of the Georgian national team; Nugzar Davitashvili, who teaches advanced physics and statistics at Ben Franklin Academy in Atlanta; Giorgi Volski, deputy state minister for conflict resolution issues in 2004-2007; Leri Khabelov, 1992 Olympic champion in free-style wrestling; human rights lawyer Manana Kobakhidze; writer Guram Odisharia; Irakli Sesiashvili, head of defense and security working group in Ivanishvili's Georgian Dream public movement; Tedo Japaridze, ex-foreign minister; Nodar Khaduri, Dr. of economics at the Tbilisi State University who previously was with ex-parliamentary speaker Nino Burjanadze's party; academician Ivane Kikhuradze; Maia Panjikidze, a spokesperson of Ivanishvili; lawyer Zakaria Kutsnashvili, who is a member of Ivanishvili's legal team; head of Ivanishvili's charitable organization Cartu Irakli Garibashvili; a lawyer Tamaz Avdaliani of Kurdish rights group; actress Nineli Chankvetadze and Giorgi Zhvania, brother of Georgia's late PM Zurab Zhvania.
Ivanishvili told journalists on February 15, that ex-public defender and former chairman of Georgian Party, Sozar Subari, would also join his planned party. He also said that he kept cooperation with Eka Beselia, who was not present at the presentation and whom Ivanishvili hired as one of his lawyers after going into politics last October; recently Beselia has kept a low profile not seen as often as previously over Ivanishvili-related developments, triggering speculation that she had been sidelined. Ivanishvili said Beselia would join his party "if she still has such a desire."
Ivanishvili also said that he would be the chairman of his party; but for that to happen he has at first to regain his Georgian citizenship.
Ivanishvili tries to regain citizenship through naturalization process. He submitted relevant papers to the authorities on January 5. According to the law on citizenship, the President has maximum of three months to respond to the application on citizenship.
Ivanishvili said that he plans to formally launch his party in early April, adding that he was sure he would regain his citizenship, but if not his wife Ekaterine Khvedelidze would become the party's founder and chairperson.
Ivanishvili's planned party intends to form a coalition to run in the October parliamentary elections in a joint electoral bloc with three other opposition parties – Republican Party, led by Davit Usupashvili; Our Georgia-Free Democratic, led by Irakli Alasania and National Forum, led by Kakha Shartava.