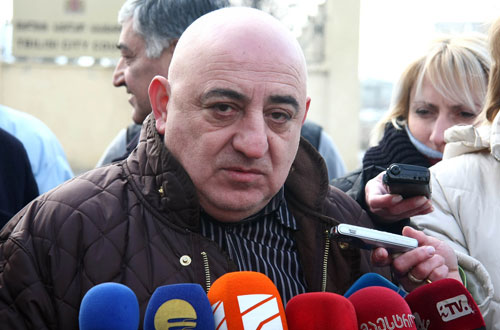 Valeri Gelbakhiani speaks with journalists outside the Tbilisi City Court on February 21 after judge ordered his release on GEL 50,000 bail. Photo: InterPressNews
A former lawmaker, Valeri Gelbakhiani, who four years ago was charged with conspiring to overthrow government, was released on GEL 50,000 bail on February 21.
The Tbilisi City Court's ruling – unusual especially when charges like coup plotting are involved – comes a day after Gelbakhiani was arrested while entering into Georgia from Armenia.
He was wanted by the Georgian police since early 2008 when he was charged with plotting a coup in a case related to developments of late 2007 – amid political tensions in aftermath of November 7, 2007 break up of anti-government demonstrations and ahead of snap presidential elections in January, 2008.
At the time Gelbakhiani led presidential election campaign of tycoon Badri Patarkatsishvili, who died in February 2008.
"I want to thank judge for this decision, which allows me to have a contact with the society," Gelbakhiani told journalists outside the court, adding that he was ready to cooperate with the investigation.
The court said that the judge decided to release Gelbakhiani on bail as there was no longer a concern that the accused might abscond. The judge also took into consideration Gelbakhiani's age – he's 56 years old – and his "health condition", the Tbilisi City Court said.
The prosecution was asking the judge to send Gelbakhiani to a pre-trial detention pending investigation.