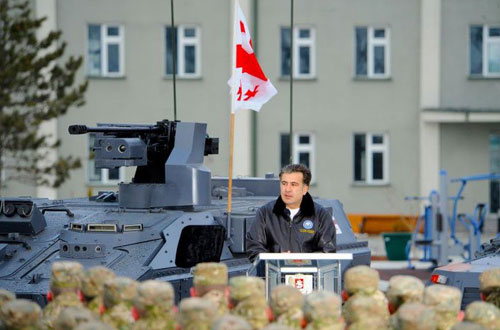 President Saakashvili addresses Georgian soldiers at the National Defense Academy in Gori, February 25. Photo: Georgian President's administration.
President Saakashvili used his speech before the Georgian troops to mark the Day of Soviet Occupation on February 25 to call on the political parties to stop, what he called, "jumping from one position to another" and tell public "openly" about their real foreign policy priorities ahead of the parliamentary elections in October.
Though he did not mention anyone by name, Saakashvili's target apparently was a billionaire opposition politician Bidzina Ivanishvili and his newly set up coalition.
Ruling party lawmakers and senior government officials insist, that Ivanishvili's statements about being in favor of Georgia's NATO integration, especially after his initial ambiguous stance on the matter, are in fact political posturing. They argue that Ivanishvili's and some of his allies' statements about having intention to sort out ties with Russian leadership, as well as deeming possible to simultaneously have good ties with Moscow and moving towards NATO were in fact showing that Ivanishvili carries pro-Russian overtones.
"Soon we will have elections. I will be a guarantor for the election process to pass in a free and fair environment," Saakashvili said in a live televised address before the Georgian troops at the National Defense Academy in the town of Gori.
"This is extremely important, because those political forces, who plan to run in the elections, should say the truth to the people. Each of them is obliged to be clear and open to the people."
"I see that some parties are hesitant over the most important issue of the country such as security and freedom; they are jumping from one position to another, changing the priorities based on the results of opinion polls, down the wind," said Saakashvili, who was standing on a background of Georgian-produced tracked infantry fighting vehicle Lazika and light wheeled armored patrol vehicles Didgori.
"I've heard from some of them [political parties] that one should have a good relationship with Russian leadership and it is a higher priority than NATO and European Union. I have also heard an opinion that 'although NATO and EU are popular and it should remain our priority' - because they want to receive votes – 'we should have a good relationship with Putin and his government'. There also is an opinion that out of these [options] we do not need any of them because we should invent a Georgian way: 'let us be alone in the world and let all winds blow in our direction, over our heads'," Saakashvili said.
"My dear compatriots, of course, everybody wants to have a good relationship with Russia, and first and foremost it's me who wants that; but not at the expense of our sovereignty, not at the expense of our statehood, not at the expense of NATO and the EU."
"NATO and the European Union are the only way for having sustainable statehood for our future generations. We should unwaveringly follow the commitments undertaken on this path of integration into these structures and we should firmly believe that despite of any threats, we should keep our firmness like the Baltic States did it," Saakashvili said.
He said in Georgia's neighborhood there also was an example opposite to the one of the Baltic States, when some countries, which "were close to entering into the European family, showed hesitation and turned their sight towards Moscow as they were baited with various promises."
"Did they get better relations with Russia in exchange? Show me at least one neighbor, which got good relations with Russia. Of course not. Today they pay three-fold more price for gas than Georgia does," he said.
"Russia's current leadership does not want neighbors at all; what they want is to have absolute vassals."
"If you want to be on good terms with invader than you have to be a slave of that external force," Saakashvili said.
He said that even the slightest hesitation over Georgia's Euro-Atlantic aspiration "will isolate" Georgia and "turn us into booty in the hands of revanchist leaders in Moscow."
"Let everyone speak their mind openly," he said. "Everyone in Georgia is tolerant towards this opinion, we are free country and everyone can freely speak out. It is possible in Georgia to be openly Putin supporter, despite of the fact that part of our territories is occupied by Putin's soldiers."
"I think it is neither good and moral nor popular to be a Putin supporter, but it is legal. So those who like Putin and believe him, or believe that his version of Georgian-Russian relations can be accepted, please state about it loudly without wagging a tail."
"You can have ties with Russia's current authorities and you can think that it is more important than membership in the EU and NATO; but you can't hide this position from public. Discussions over our country's future are so important that it is our obligation to make it clear and open for the public," he said.
"Those who say that we should not be part of this [ISAF] operation are footmen of Putin and of Russia no matter if they state that they support NATO and EU."
"If we want to have the state, we should have the army and if we want to have the army we should be in the international combat missions no matter how painful it might be."
"Those who say that we should not turn the country into a battlefield, they forget one thing and they hide one thing from the public – our country has already been turned into a battlefield by the invader of our country," he said.
"You may say that the current leadership of Georgia is the sole problem on the way towards improving ties [with Russia]… But by saying this you are actually voicing what Vladimir Putin dreams about day and night. And after that no matter how often you will say that you are pro-Western, in fact you are what they [Russian leadership] wants you to be. This is the truth," Saakashvili said.
"If we start hesitation now we will lose not only years, but we will lose freedom for next generations," he said.
"The Georgian government's reform oriented course has turned not only into their [Russian leadership's] foreign policy problem, but also into a problem of their internal politics. So our path should be only towards further development and towards reversing counter-reformist movement," he said.