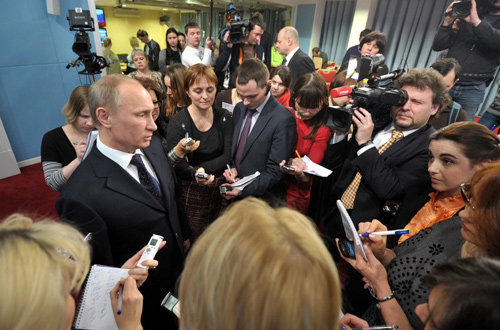 Russia's Prime Minister and president-elect, Vladimir Putin, speaks with journalists, March 7. Photo from Russian PM's website.
Russia's President-elect Vladimir Putin told journalists on March 7, Russia "has special relations with the Georgian people" and expressed hope that "a solution will be found" to improve ties between the two countries and also indicated that "much will depend" on elections in Georgia.
Putin also recalled developments in Georgia's Autonomous Republic of Adjara eight years ago to argue that unlike President Saakashvili he was always keeping his word in talks with the Georgian leadership.
He made the remarks after he was asked by a journalist from Tbilisi-based Imedi TV how he viewed Russia-Georgia relations during his presidency taking in view Russia's recognition of Abkhazia and South Ossetia – decision "which no one likes."
"How could anyone like a decision to attack peacekeepers?" Putin responded. "No one liked it too, at least in Russia no one liked especially when people died… That's the result of actions of Georgia's current leadership not ours."
"We have said it for many times and I want to stress it once again: we have special relations with the Georgian people and we hope, that a solution will be found. But it is now premature to speak about it and probably it has no sense. Today Dmitry Anatolevich Medvedev is the President of the Russian Federation and he is in charge of the foreign policy so please direct questions to him," Putin said.
Later during the same conversation with reporters, Putin was again asked by the same journalist whether there would be any change in Russia's policy with Georgia in particular over the visa rules. Putin responded that Russia had visa-free rules with members of Commonwealth of Independent States (CIS) from which Georgia withdrew after the August, 2008 war. But when the journalist argued back by saying that Russia kept visa rules with Georgia even when it was part of CIS, Putin responded: "Yes, but it was because of events everyone is aware of. And now in addition Georgia also quit CIS."
When he was asked whether his response meant that nothing would change during his presidential term, for at least next six years, Putin said: "I do not know." He then asked the Georgian journalist: "When are the elections in Georgia?"
Asked whether future relations would depend on election outcome in Georgia, Putin responded: "Much depends on that too."
After the journalist told Putin that there "is no politician in Georgia" who would recognize Abkhazia and South Ossetia and that Tbilisi wanted Russian troops out from those two regions, Putin said that there was a threat that Georgia would again attack those regions in case of withdrawal of Russian forces.
"We've talked for many times about this issue with Mikheil Nikolayevich [Saakashvili]. I told him for many times and there is nothing to hide about it: 'Mikheil Nikolayevich do not lead the process to bloodshed… You should build relations with these people'. He told me: 'Yes, of course, definitely. We'll do that'," Putin said adding that Saakashvili did not follow his pledge.
Then Putin recalled developments in Georgia's Adjara Autonomous Republic in 2004, when President Saakashvili was in confrontation with then leader of Adjara Aslan Abashidze, who was ousted in May 2004.
Putin said that at the time he told President Saakashvili, that although Russia had its military base in Adjara, Moscow would not interfere into developments in Adjara.
"And we have not interfered. He [Saakashvili] told me: 'Yes, true, you kept your word'. And how the Georgian side acted? We have agreed with them to set up a joint anti-terrorist center instead of our base there [in Adjara]. And where is it? When I offered Mikheil Nikolayevich: 'let's sign an agreement about having an anti-terrorist center there', he responded: 'there is nothing to sign… We don't want to fulfill that so we threw that agreement away'… So how could one negotiate with such people? About what?.. I know Mikheil Nikolayevich will hear my words and of course he will be denying them," Putin said.
"It's not us, but the Georgian people which will decide who will be their President. We have formulated our position. It was not us who have initiated those tragic events [in 2008], but the Georgian leadership probably has to do something to change the situation," Putin said.
He also said that "no one from Georgia has yet phoned me" to congratulate on election victory.