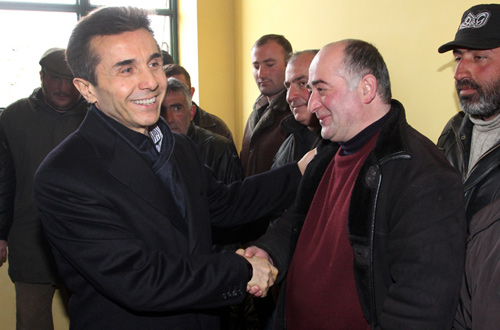 Bidzina Ivanishvili (left) meets activists of his opposition coalition in the town of Kareli, Shida Kartli region, on March 12. Photo: Ivanishvili's press office.
Since its formation less than three weeks ago, Georgian Dream opposition coalition, led by Bidzina Ivanishvili, has opened up to dozen of its offices in the provinces as part of the campaign in lead up to parliamentary elections in October.
The coalition's offices have so far been opened in Khobi, Kobuleti, Gurjaani, Chiatura, Mtskheta, Sagarejo, Marneuli, Chkhorotsku, Tianeti, Senaki and Kareli. The coalition's goal is to embrace the entire country within a month. In most of the cases, opening of offices in the regions are attended by various senior figures from the coalition, but in several cases Ivanishvili himself also participated.
On March 12 Ivanishvili was in Kareli where he met with local activists during the opening of the coalition's office in that town of Shida Kartli region.
He said that criticism of his coalition for "developing slowly" was groundless.

"Seven months are left before the [parliamentary] elections and it's quite much time in order to become moderately active and to save maximum charge for the major [purpose]," he said while speaking with his coalition activists in Kareli.
He called on supporters for "patience", saying that his coalition's drive would gain momentum "gradually".
"We should not hurry; everything will happen in due," he added.

Ivanishvili also said Georgia's leadership was "coward" and was confronting his coalition with illegal means, including through "intimidating" his supporters. He said that the authorities' "fear" towards his coalition was well-grounded, "because they understand that a force is coming which they are not capable to stop".
"We will definitely come [into power] and they [the authorities] will face responsibility for those illegal acts which they have been committing for years already," Ivanishvili said.