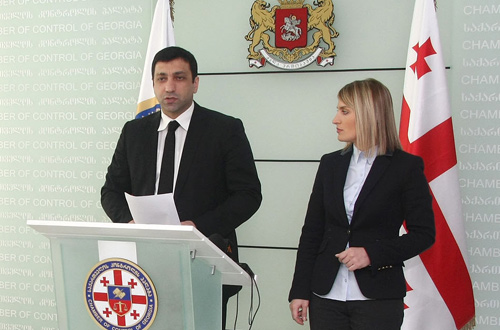 Levan Bezhashvili (left), head of the Chamber of Control, and Natia Mogeladze, head of the party funding monitoring service at the Chamber of Control, seen at a news conference on January 4, 2012. Photo: InterPressNews
The state audit agency, Chamber of Control, is considering making audio or video recordings of activists' questioning process ongoing in the regions as part of the probe into political finances of Bidzina Ivanishvili-led movement, head of the agency, Levan Bezhashvili, said on March 15.
An opposition coalition, led by billionaire politician Bidzina Ivanishvili, accused the Chamber of Control and its unit in charge of monitoring political finances of turning into "political police" and "prosecutor's office" for summoning dozens of its activists in the regions and questioning them, which, the opposition group said, in fact amounted to "intimidation" and exerting "psychological pressure" on its supporters.
A group of election watchdog and legal advocacy groups, as well as some media outlets, campaigning jointly in favor of amending new party funding legislation, condemned in their joint statement on March 15, questioning of opposition activists in the regions, saying that the process contained "signs of persecution of citizens with dissent opinion."
Bidzina Ivanishvili met with representatives of the Tbilisi-based foreign diplomatic missions on March 15 to raise concerns over ongoing summoning and questioning of activists in the regions, which, he said, was "a large scale assault" by the authorities on his supporters.
The state audit agency denies the allegation saying that summoning and "interviewing" of opposition activists was part of its ongoing probe purely aimed at verifying accuracy of financial report, covering the period of January-February, 2012, which was submitted by the Georgian Dream public movement, led by Ivanishvili.
"There have been allegations about intimidation of [activists]. We have decided to make audio or video recording of each such conversation [with activists] in order to avoid misunderstandings and misinterpretations. I understand that it is related to politics and someone may want to deliberately misinterpret information and make a political fuss out of it. So in the future we will try to make video and audio recording of this process," Levan Bezhashvili, the chairman of Chamber of Control, told Civil.ge via phone on March 15.
There have been calls on the Chamber of Control to make questioning of opposition activists transparent, including through providing video and audio recordings of the process.

He said that the agency itself was interested in having such recordings because it would serve as "an additional guarantee" to prevent speculations. Bezhashvili said technically it might take "days or weeks" to secure such video or audio recordings.
Bezhashvili said that ongoing summoning and "conversations with" or "interviewing of" activists, as he calls it, started after the Georgian Dream, like other political groups, submitted in early March upon the Chamber of Control's request its financial report for the first two months of this year. He said that initial examination of the report triggered reasonable doubts about accuracy of the document and to verify how the group's actual spending for activists' salaries, renting of office spaces and their renovation works in the regions matched with its spending declared in the financial paper, the agency decided "to talk" with activists on the ground.
For this purpose, Bezhashvili said, the Chamber of Control tasked its team of up to eleven people, whose official position is described as "expert-analysts", to carry out this questioning process and "trained and instructed" them in advance to ask activists questions related purely to ongoing monitoring, which had nothing to do with finding out political views of individuals.
"Each and every citizen has the right to freely exercise political activities… and no one can restrict this right. This [process of questioning] is only purely about transparency of political finances," Bezhashvili said.
He strongly denied allegations that law enforcement officers were involved in the questioning, saying that the Chamber of Control decided "on purpose" not to invite personnel from police or other state agencies in the process, although it had such right, in order to prevent political speculations. He said that the Chamber of Control only requested the local governments in the regions to allocate a room for questioning in their buildings.
While meeting with foreign diplomats on March 15, Ivanishvili argued that the Chamber of Control had no enough human resources to independently tackle the process of questioning of so many activists and said he suspected that law enforcement officers were engaged. Ivanishvili said that the purpose of "pressure" on activists was to force them stop cooperating with the Georgian Dream.
Bezhashvili said that "from nine to fourteen people" had been summoned in each municipality and at this stage the process was ongoing mainly in several municipalities in eastern and western regions of the country, although the scope might be further broadened to cover other regions too.
The state audit agency said that in the process of its ongoing examination, which is not yet completed, it had found that the Georgian Dream was renting office spaces in the regions in violation of party funding regulations, suggesting that in this process the group was using corporate funding, which is banned by the law.
The state audit agency said in its statement on March 14, that "on this stage it has been confirmed" that office spaces were rented not by political parties in the coalition or natural persons, as law requires, but by Ivanishvili-affiliated companies "despite of the fact that law bans funding of political organizations by a private firm." The state audit agency also said that similar violations were also found in respect of funding renovation costs of offices and salaries for the activists.
The Georgian Dream confirmed using private companies to hire office spaces in the regions, but said that such practice in itself did not constitute a violation of the law.
Zakaria Kutsnashvili, one of Ivanishvili's aides on legal issues, told Civil.ge on March 15, that the Georgian Dream decided to use private companies as sub-contractors in renting office spaces in the regions after several owners of office spaces refused to lease their property directly to Georgian Dream because of pressure from the authorities. Kutsnashvili said after several such cases the movement decided to use third party in the process. He, however, said that it was not in any way a violation of the law and no corporate funding was involved in the scheme because the Georgian Dream would pay rent fee to those companies, which then would give this sum to owners of the office spaces.
He said that these transactions were not reflected in the Georgian Dream's financial report submitted to the Chamber of Control because renting of office spaces started in early March and the financial report was covering only the first two months of this year. First payments for rent should be made by the end of March, he said.
Davit Usupashvili of the Republican Party, part of Ivanishvili-led coalition, said on March 15, that disseminating groundless allegations against the Georgian Dream was part of the authorities' "trick" aimed at intimidating opposition activists and discouraging them to engage in the campaigning. "It won't work. Our activists are firm enough," he said.
"The government is in such agony, that it forgot about existence of law, exerting large-scale pressure on people associated with our coalition," Ivanishvili said on March 15 while meeting with the foreign diplomats.
He urged the international community to call on the Georgian authorities to observe laws and warned that continuation of pressure on the activists would eventually lead "to grave consequences."